Summer 2014 Ethnographic and Linguistic Field School in Ecuador

See also the Appalachian's coverage of the 2009 program here and the Appalachian Today's coverage here.

June 1-July 1, 2014
6 credits (ANT 3900 Ethnographic School [3 credits] and ANT 3549 Field Methods in Linguistics [3 credits])

APPLICATION DEADLINE
Appalachian State University Students: March 1 PROGRAM IS FULL
Non-Appalachian State University Students: February 1 PROGRAM IS FULL
Note: Limited to 15 spots
HOW TO APPLY [click here]
NOTE: Non-ASU students, please contact Nathalie Turner at turnernm@appstate.edu

DOWNLOAD A POSTER (11x17) [click here]
ABOUT THE PROGRAM

Now in its sixth year, this program will give students the opportunity to travel to Ecuador where they will learn about indigenous culture and language from working with a community in the Amazon. The majority of the program will be spent on the shores of the Napo River, which is one of the main tributaries which create the Amazon River. This is an anthropological-based program in which students will take two courses (ANT 3900 and ANT 3549). In the first, Ethnographic Field School, students will learn how to construct a research project, learn interviewing techniques, and gain valuable experience in ethnographic methods and analysis. We will be studying indigenous representation in Ecuador (focusing upon the impact of oil, eco-tourism, and rainforest management on identity and empowerment), working with Kichwa (Quichua)-speakers of the upper Amazon. The program also strongly focuses upon an engaged anthropology through which students will develop collaborative partnerships with local community members. For the second course, Field Methods in Linguistics, students will have the opportunity to study the indigenous language of Kichwa, while learning methods in language documentation and analysis. In addition, there will be numerous excursions for students to learn about "shamanism," forestry conservation, biodiversity, and environmental citizenship. $3,300 (airfare included).
For more information, contact Dr. Timothy J. Smith
Students have come from Pennsylvania State University, Cornell University, Indiana University, York University, Tufts University, Louisiana State University, Bowdoin College, University of New Mexico, University of Alabama, University of Illinois-Chicago, University of North Carolina at Chapel Hill, and many others.
Their majors have included anthropology, linguistics, geography, biology, global studies, political science, women's studies, global health, interdisciplinary studies, social work, sociology, and studio art.

Alumni of this program have been accepted to graduate programs (i.e. the University of Michigan, University of Chicago, and the University at Albany-SUNY), while others have used this experience to land internships and work with NGOs after graduation such as The Carter Center for Human Rights, AmeriCorps, Language Development and Perception Laboratory at the University of Maryland, Clinton Global Initiative, Université de Lausanne, Yellowstone National Park, Threads of Peru, Cornell University BABY Lab, North Carolina One Health Collaborative, and Latino Health Program of the High Country
The program starts out in the Andean capital of Quito, where students will have the opportunity to visit local museums and learn about the archaeological and colonial history of Ecuador and, in particular, the history of the Inca Empire, which dominated the Andes and Upper Amazon for nearly a century before the arrival of the Spanish in the early 16th century. From there, the group travels by bus for six hours before arriving to their field site in the Napo Province of eastern Ecuador. Students work with members of an Amazonian indigenous foundation that focuses on gender, community tourism, and the transformation/conservation of local traditions. It is located on the shores of the Napo River, one of the ten main tributaries which make up the mighty Amazon, which cuts through the heart of the South American continent. The focus of the field school is on indigenous activism, citizenship in Ecuador in the wake of local resource extraction (oil), development, and sustainable tourism initiatives.


Nearly forty percent of Ecuador's export earnings derive from its oil industry (other industries include bananas, cut flowers, and shrimp). Nearly one-third of the central government's budget revenues come from its oil earnings, which for many has justified the exploration and colonization of the Amazonian basin since the mid 1960s. It was the sustained presence in the area as part of a sustained effort to exploit the country's petroleum reserves in the Amazon region which sparked an indigenous uprising in this eastern part of the country. While shaping national level politics and helping to underwrite the rise to power of the Confederation of Indigenous Nationalities of Ecuador (CONAIE), the oil industry has impacted Kichwa speakers of the Upper Amazon. Students will learn about these changes in addition to subsequent reactions by communities to protect (and shape) the environment and how national movements manifest in local activism. The course works with one of seventeen communities through which a pipeline skirts through the jungle across their lands (communities that formed a union which has pressed for indigenous rights).


The students will be divided into research teams, each of which will work in collaboration with indigenous consultants in the carrying out of a research project with one of the following themes: environmental activism, history, oil, identity/activism, gender, and eco-tourism. Working together, students will develop their own research goals and carry out their research with local community members. In addition to participant-observation over the course of the month, students will visit family homes with indigenous translators and guides to interact with local families. In order to foster a collaborative spirit and build rapport, as well as receiving an introductory course in linguistic field methods, students will also undergo intensive Kichwa (Quichua) study in the afternoons. They will be introduced to basic phrases and concepts through a grammatical study of the language and are charged with creating a basic lexicon around individual lessons.



In addition to classroom and field instruction, students will also receive an introduction to local traditions and practices in the way of manioc (cassava/yuca) harvesting, community service projects (mingas), ceramic traditions, environmental conservation, and "shamanism," along with a hike into the Amazon jungle where they will learn about local plants used for medicinal purposes and regional biodiversity.

ELIGIBILITY
Prior knowledge of Spanish, although recommended, is not required for participation. Classes will be held in English. Both ASU and non-ASU students are welcome and the program is open to those 18 and older with an interest in anthropology, history, political science, cultural studies, plant biology, and public health (to name a few). For non-ASU students, a background check will be required and they are encouraged to contact Nathalie Turner as soon as possible (deadline for completed application for admission to ASU as non-degree seeking student is February 1st to ensure consideration) for more information on how to apply: turnernm@appstate.edu

LOCATION AND HOUSING
Participants are housed in cabins with double or triple occupancy. Each room has located within it (or is a short distance from) running water and hot showers. Three meals per day are provided. Vegetarian options can be arranged.
PROGRAM INCLUSIONS
Housing accommodations for four weeks
Three meals per day for four weeks (group meals)
Entrance fees for tourist sites
Group transportation throughout Ecuador
Field trips to neighboring villages
Roundtrip group transportation from Charlotte to Quito (airfare and shuttle)
NOT INCLUDED
Personal expenditures
Undergraduate tuition

HOW TO APPLY [click here]
NOTE: Non-ASU students, please contact Nathalie Turner at turnernm@appstate.edu
NOTE
Appalachian State University reserves the right to cancel or alter the program format and/or to change costs in case of conditions beyond the University's control.
FINANCIAL AID AND SCHOLARSHIP INFORMATION
State and federal financial aid can be applied to your study abroad expenses if you are eligible, and some scholarships are available. If you already have a scholarship, it's possible that it can be applied toward the cost of studying abroad. For scholarship opportunities, please visit http://www.international.appstate.edu/education/scholarships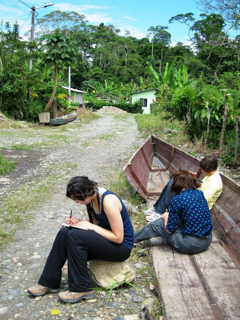 What students say about the program:
This was an incredible experience in the field. I feel like more undergraduates need this caliber of research opportunity. After an experience like this, any student would know for sure if anthropology is the academic path for them. (2009)
You can learn from books and in classes about anthropology or whatever your major is but, until you go out and actually do fieldwork, you don't know what you are talking about. The experience that I had in Ecuador was like finally coming home to my field of study—to see how anthropologists conduct the methods made sense of my last two years of classes. Without this opportunity, I don't think that I would have the idea now of my future career. (2009)
It not only gives you a global perspective, but is valuable because we live in an age of globalization and need a deeper understanding of how our lives affect others and their lives. It gives students a new level of consciousness. (2009)
This was an amazing field school. Any anthropology major should definitely consider going to see if they truly want to do fieldwork for a living. It helped me to figure out what I want to do with my future. (2010)
It allowed me to open my mind and see the world from a different perspective. My life will never be the same. (2010)
This was the greatest experience I have ever had. I matured in multiple ways and kept an open mind. I do not think my life will ever be the same after this experience. (2010)
I'm from Latin America but I never had the opportunity to learn from and relate to indigenous communities in my country. I now have a new perspective for when I return. Also, a part of my self-identity rests on being Latina. I feel as though I've learned more about my own culture and heritage. (2011)
Through the ethnographic field methods course, I was able to see how politics and government affect people (and vice-versa), which was an interesting juxtaposition with U.S. culture. I never really realized how different my life is from so much of the rest of the world—not only with respect to privileges and day-to-day life, but also in world and religious views. (2011)
The program made me much more aware of how the rest of the world views the United States and drew my attention to the desperate need for Americans to learn about cultures other than their own. I learned to be more appreciative of differences between cultures and learned more about my own prejudices and how I can change them. (2011)
I now have the global experience that verifies my passion for studying culture and global inequality. (2012)
HOW TO APPLY [click here]
NOTE: Non-ASU students, please contact Nathalie Turner at turnernm@appstate.edu