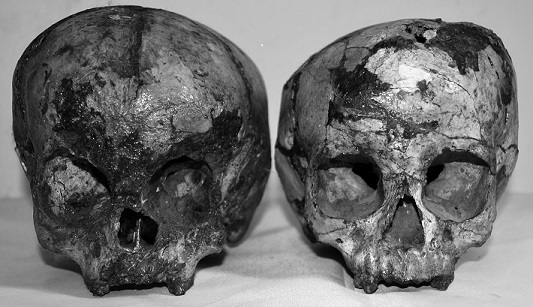 Dr. Gwen Robbins Schug, Professor of Anthropology at Appalachian State University, received a research award from the Wenner Gren Foundation to conduct an investigation of dietary change, migration and diverse human strategies for coping with climate and social change in the third millennium BC in South Asia. She will be traveling to India in the fall semester of the 2017 school year to collect samples for stable light and heavy isotope analysis, in a collaborative project with researchers from Deccan College Post-Graduate Research Institute (India), Cambridge University (UK) and the University of Florida (USA).
Dr. Schug has spent more than 15 years conducting research on the human skeletal remains from archaeological sites in South Asia. In 2001 and 2011, she conducted two separate but related investigations of the impacts of environmental changes on past populations in rural and urban settings, respectively. This work demonstrates that human responses to climate change in the past are complex, contingent on specific historical and socio-cultural circumstances, and ultimately provide incredibly valuable evidence of use to understanding potential impacts of contemporary global warming.
Because awareness of the dangers of climate change has increasingly pervaded our political, economic, social and personal lives, many scholars—particularly in the Human Security field—have become interested in understanding human vulnerability, the role of the state in providing different forms of security and in predicting the specific threats posed by future warming. Unfortunately, these assessments are often conducted in a pseudo-Darwinian framework whereby climate change becomes a "threat to national security" due to an "essentially violent human nature" combined with the potential for large-scale environmental migrations and competition for resources.
Dr. Schug's research has demonstrated how archaeology -specifically bioarchaeology, or using human skeletal remains as a source of evidence about the lives of past people- can provide a more nuanced view of past, and perhaps future, human-environmental relations. She and her colleagues have argued that violence in the face of climate and social change is primarily a product of historical, social and cultural conditions—urbanism, social inequality and structural violence, for example. Their research has demonstrated that climate change has sometimes been associated with inter-personal violence, increasing effects from introduced infectious diseases and "othering" of certain segments of society. However, resilience and peaceful responses to crisis in the past should equally command our attention. Using evidence from paleopathology, paleodemography, bone growth and development, Dr. Schug has shown that resilience includes diverse forms of suffering, forms which influence and are also influenced by, the socio-cultural context.
Dr. Schug and colleagues' work on human biocultural adaptations to past climatic and social changes has shaped bioarchaeological research on this topic globally and has also been part of a revitalization of research interest in Indus civilization archaeology.
In the present project, Dr. Schug and a team of researchers from India, England and the US will be analyzing stable light and heavy isotopes in tooth enamel from a population of human skeletons that lived in the city of Harappa, an Indus civilization site in what is now Pakistan. We know that the city was comprised of a heterogeneous mix of immigrants in the Urban Period (4600-4000 years ago) and that this city, along with hundreds of other settlements, was largely abandoned 3900-3700 years ago, after several centuries of increasing aridity in South and West Asia, disruption of trade networks, and socio-cultural changes. The project goals are focused on questions about how social inequality, immigration, personal and community identity may have intersected to shape different responses to crisis and experiences of resilience at the end of this civilization.
To accomplish these goals several different kinds techniques will be employed. Strontium, lead and oxygen isotope data from the human skeletons will address questions of geographic origins, patterns of migration, and will provide direct evidence for climate change in human skeletons of individuals buried in cemeteries that span this urban to post-urban transition. AMS dating will provide a tighter chronology for these changes in the human population. Carbon and nitrogen stable isotopes will demonstrate ways in which the human population strategized subsistence in the face of these large-scale socio-economic and environmental changes. In addition to the isotopic analyses, samples will be collected for the application of genomic and genetic analyses to address questions about the evolution of MTBC and other mycobacterial pathogens. This project integrates isotopic, molecular and bioarchaeological approaches to archaeological and social theory research questions focused on human agency and the experience of resilience in the past.
By: Savannah Clemmons
About the Wenner-Gren Foundation
The Wenner-Gren Foundation for Anthropological Research, Inc. is a private operating foundation dedicated to the advancement of anthropology throughout the world. It has three major goals: to support significant and innovative anthropological research into humanity's biological and cultural origins, development and variation; to foster the international community of research scholars in anthropology; and to provide leadership at the forefronts of the discipline. Located in New York City, it is one of the major funding sources for international anthropological research and is actively engaged with the anthropological community through its varied grant, fellowship, networking, conference and symposia programs. It publishes the international journal Current Anthropology and disseminates the results of its symposia through open-access supplementary issues of this journal. The Foundation works to support all branches of anthropology and closely related disciplines concerned with human biological and cultural origins, development and variation.
About the Department of Anthropology
The Department of Anthropology offers a comparative and holistic approach to the study of the human experience. The anthropological perspective provides a broad understanding of the origins as well as the meaning of physical and cultural diversity in the world – past, present and future. The department offers numerous research opportunities for students including field schools, internships, lab projects and independent studies at home and abroad. Students may earn B.A. and B.S. degrees with concentrations in sociocultural anthropology, archaeology, biological anthropology, and social practice and sustainability.
About the College of Arts and Sciences
The College of Arts and Sciences is home to 16 academic departments, three stand-alone programs, two centers and one residential college. These units span the humanities, social sciences, and the mathematical and natural sciences. The College of Arts and Sciences aims to develop a distinctive identity built upon our university's strengths, traditions and unique location. Our values lie not only in service to the university and local community, but through inspiring, training, educating and sustaining the development of our students as global citizens. There are approximately 5,850 student majors in the college. As the college is also largely responsible for implementing Appalachian's general education curriculum, it is heavily involved in the education of all students at the university, including those pursuing majors in other colleges.
Tags: