Zooarchaeology Lab
The Zooarchaeology Lab is located in room 328 of Anne Belk Hall. The lab, directed by Dr. Whyte, is dedicated to research and teaching with a focus on zooarchaeology and southern Appalachian archaeology. One half of the lab is dedicated to teaching three- and four-thousand level classes such as Zooarchaeology (ANT 3200), Archaeological Laboratory Methods (ANT 3250), and Experimental Archaeology (ANT 4440).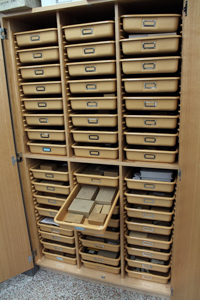 The lab is home to the department's zooarchaeological comparative collections, which include thousands of skeletons of vertebrates and shells of mollusks to aid in the identification of animal remains recovered from archaeological sites. This collection is especially rich in skeletons of freshwater fishes from the southeastern U.S. and marine fishes from the western Atlantic and Caribbean. Also maintained in this lab are comparative/teaching collections of plant remains and historic artifacts used in teaching Archaeological Laboratory Methods (ANT 3250). The lab is also used for washing and sorting materials recovered by ASU's archaeological field projects.
When not being used as a classroom, the lab can often be found filled with students working hard on their own projects.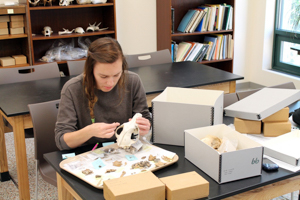 Biology major Katie George studies animal bones from a prehistoric archaeological site for her Zooarchaeology project.