Katie Williard '22, Callegari Scholar (2020-21)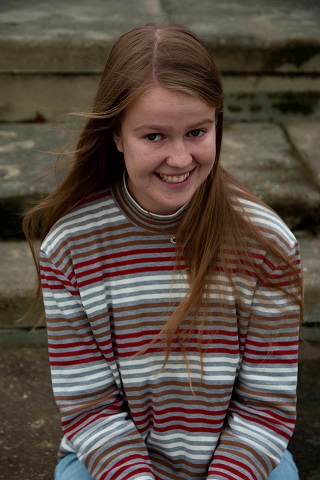 Katie Williard graduated from Appalachian State University in 2022 with a B.A. in Psychology and a B.A. in Gender, Women's, and Sexuality Studies with a minor in Animal Studies. She was awarded a Sally A. Callegari Memorial Scholarship for Gender Diversity in Animal Studies in 2020-21 from the College of Arts & Sciences. Launched in 2019-20, the Callegari Scholarship has helped four majors complete their studies at Appalachian and has included a diverse array of majors housed in the departments of Anthropology, Biology, Interdisciplinary Studies, and Psychology. Katie was the second recipient of the scholarship and the announcement was covered by a previous IDS news story which you can read about here.
The Callegari Scholarship was established in memory of Sally A. Callegari, a life-long supporter of animal rights, care, and health. The purpose of the Sally A. Callegari Memorial Scholarship for Gender Diversity in Animal Studies is to recognize outstanding scholarship in the humanistic or scientific study of animals that is couched in healthcare and/or advocacy and to provide incentive for students with demonstrated personal or research experiences of sexism, or who demonstrate an interest in the advancement of women in the sciences through their own work/activism, and who demonstrate a commitment to ending gender-based discrimination to enter into a profession that includes an interest in the well-being of animals (i.e. veterinary medicine, biology, animal welfare, primatology, etc.). It awards $2,000 on an annual basis to a student majoring in a degree offered by the College of Arts & Sciences.
Since graduating in 2022, Katie has been employed at High Country Forest Wild, an Outdoor Education/Forest School in Vilas, NC, helping to facilitate teaching kids ages 4 to 12 about different things pertaining to Appalachia and the outdoors. This includes the topics of gardening, plant identification, Appalachian heritage, geology, and indigenous heritage.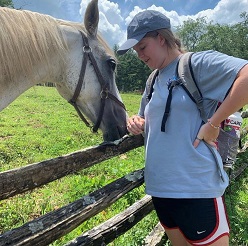 Katie's long term career goals are to work on a farm with rescued animals, full of herbs and food plants, and teaching others how to farm sustainably and ethically. When asked about how her career goals had changed during her time at Appalachian, she explained:
"My career goals have changed a lot since I was young. I once wanted to be a musician for the rest of my life in a symphony orchestra and teaching music. At another point in my life I wanted to be a dance teacher and teach contemporary dance, but over time I've found I have a bigger passion for plants, animals and nature as a whole, and I think this passion sprung from the COVID-19 pandemic, during which I spent a lot of time outside, observing how the world works in a place where there aren't just people and buildings."
With regards to how she benefitted from the scholarship, Katie replied:
"The Callegari Scholarship helped me through school when COVID first started in 2020, and it also allowed me to do more research on animals and gender while getting my degree in Gender, Women's and Sexuality Studies. I wrote a research paper on queer animals in 2019, discussing how we automatically assume animals are straight because we live in a heavily heterosexual society, but to the contrary, many animals are queer."
When asked about what advice she would give to students who have faced gender-based discrimination and for those preparing for a career working with animals, Katie finished by offering the following:
"I have experienced gender discrimination personally as a woman for the way I dress and act because it isn't necessarily feminine or 'lady-like' but especially for discussing and exposing disparities of animals and nature being queer. Still, I believe it's really important to do the research needed to educate society about what our world is like through a queer lens and also how prevelent discrimination is towards women, POC, and LGBTQIA+ folks. And I would encourage students preparing for a career working with animals to follow your creative/outside of the box ideas and believe that you can do anything if you really put your mind to it. Working with animals and nature is so exciting and magical and everyday brings new surprises. Anyone can do it."
To learn more about the Callegari Scholarship, including how to apply, and how you can help support more amazing students like Katie, please visit https://anthro.appstate.edu/Callegari-Memorial-Scholarship.
About the Dr. Wiley F. Smith Department of Psychology
Appalachian's Dr. Wiley F. Smith Department of Psychology serves more than 1,000 undergraduate majors seeking the Bachelor of Arts or Bachelor of Science degree in psychology, as well as 80 graduate students in three master's programs (experimental psychology, school psychology, and industrial-organizational psychology and human resource management) and the clinical psychology (Psy.D.) doctoral program. Learn more at https://psych.appstate.edu.
About the Department of Interdisciplinary Studies
Appalachian State University's Gender, Women's and Sexuality Studies program is an academic program housed in the Department of Interdisciplinary Studies in the College of Arts and Sciences. Appalachian's Gender, Women's and Sexuality Studies program offers a GWS B.A., an undergraduate and graduate GWS minor, an LGBT Studies minor, a Girls' Studies minor and a GWS graduate certificate. Learn more at https://interdisciplinary.appstate.edu.
About the College of Arts and Sciences
The College of Arts and Sciences (CAS) at Appalachian State University is home to 17 academic departments, two centers and one residential college. These units span the humanities and the social, mathematical and natural sciences. CAS aims to develop a distinctive identity built upon our university's strengths, traditions and unique location. The college's values lie not only in service to the university and local community, but through inspiring, training, educating and sustaining the development of its students as global citizens. More than 6,400 student majors are enrolled in the college. As the college is also largely responsible for implementing App State's general education curriculum, it is heavily involved in the education of all students at the university, including those pursuing majors in other colleges. Learn more at https://cas.appstate.edu.
About Appalachian State University
As the premier public undergraduate institution in the Southeast, Appalachian State University prepares students to lead purposeful lives as global citizens who understand and engage their responsibilities in creating a sustainable future for all. The Appalachian Experience promotes a spirit of inclusion that brings people together in inspiring ways to acquire and create knowledge, to grow holistically, to act with passion and determination, and to embrace diversity and difference. Located in the Blue Ridge Mountains, Appalachian is one of 17 campuses in the University of North Carolina System. Appalachian enrolls nearly 21,000 students, has a low student-to-faculty ratio and offers more than 150 undergraduate and graduate majors.