Programs of Study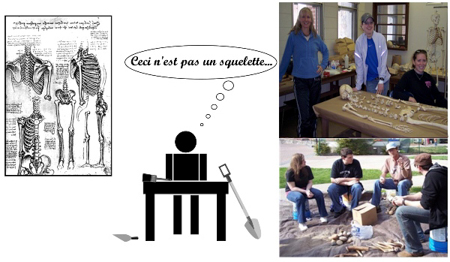 The Department of Anthropology has a well-earned reputation for collegiality among its faculty members covering the subfields of archaeology, biological anthropology, and sociocultural anthropology. We are a dynamic department, offering numerous research opportunities for students including field schools, internships, lab projects, and independent studies at home and abroad. We have nearly 150 majors and offer both a B.A. and B.S. in anthropology as well as a B.S. in multidisciplinary anthropology. Careers: Types of Jobs Our Students Hold with an Anthropology Degree
The Department also offers a rigorous training in both theory and methods that prepares our students for graduate study. Click here to see where our alumni have been accepted for graduate level study: graduate school acceptances
Major Programs of Study
The Department offers courses of instruction at both the undergraduate and graduate levels. Depending on the student's own academic interests and post-graduate goals, there are three degree programs of study to choose from.
All majors in anthropology require a minimum of 120 semester hours for the degree. The Bachelor of Arts degree and Bachelor of Science degree requires a minor (the Bachelor of Science, Multidisciplinary degree does not). In addition to General Education courses and major and minor requirements, electives must be taken to meet the total required minimum hours. The Department also offers an additional course of study for graduating with Departmental Honors.
Minors in Anthropology
The Department also offers two minors in Anthropology
If you are interested in learning more about majoring in anthropology, please visit the Department Main Office, 432 Anne Belk Hall. Please also visit the faculty profiles to learn more about exciting research opportunities with our internationally recognized professors and/or to learn more about your next advisor!
Anthropology gives you...
...understanding of world affairs and world problems.
...skills for constructing solutions to human social and environmental problems.
...skills for communicating multicultural knowledge to the public.
...deeper knowledge of humankind—at all times, in all places.
...deeper understanding of yourself.
...strong preparation for graduate study in the social sciences.
...an academic and practical background for those who wish to apply the anthropological perspective in a wide range of professional careers.