After taking a few classes in political science and global studies, Abbey Huber did not feel that the frameworks she had encountered in these classes compelled her. During her first year, and after some exasperation, Abbey's Honors advisor suggested that she take Native America through Ethnography with Dr. Dana Powell. Taking that class, she cites, is what drove her to change her major to Anthropology. While Abbey recalls that the theoretical material of the class did not "sink in" fully, she was impacted by the de-colonial emphasis of Indigenous Studies that she had not encountered in other classes she had taken. Abbey finds this to be important when thinking through ideas she encounters in Sustainable Development, her other major.
"I think it is good to take them together because they have made me think in ways that are more critical, and oftentimes vital." Abbey finds this particularly significant when it comes to her interests in environmental anthropology, and the analyses of power that she wishes to incorporate into any work she does.
Engaging with ideas of decolonization and materiality she has encountered in the Social Practice and Sustainability concentration, Abbey finds that a lot of work that invites the possibility of change comes from outside "solely academic" experiences, spaces, and frameworks.
"I would like to do work in my younger years that is not in the academy. I love the outdoors and would like to do work that I feel is meaningful to me outdoors. I have experience with 'conservation' work and trail crew work. But I do not know that I want to go in that direction, or be a park ranger or something, because I cannot say that my ideas lie with traditional ideas of American Conservation."
Right now, Abbey is an intern at F.A.R.M. Cafe, which she feels is "one of the only places where students and locals interface and interact in the same mediums, working and eating together," and where she feels praxis comes to life. It is a pay-what-you-can community cafe that takes in primarily local food, including food from local stores that could normally get thrown out. Their goal is to impact the local food system by allowing people to volunteer for an hour (with tasks that are accessible) and in exchange everybody eats.
Anthropology is a way that Abbey feels she can approach questions, and to push boundaries about naturalized ways of thinking. It has made her question who is in power, who benefits materially, and what this means when it comes to questions of food and land accessibility, as well as how this affects people who are doing labor involving these things. Abbey is also a part of United Students Against Sweatshops and the Appalachian Climate Change Collaborative. "I chose to do these things over other extracurriculars because these things are ways of organizing and leveraging student power for causes that are not only good for us, but everyone in the world. Like garment workers, or anyone who will be affected by climate change, which includes us, but it acknowledges that experiences will vary around the world."
About the Department of Anthropology
The Department of Anthropology offers a comparative and holistic approach to the study of the human experience. The anthropological perspective provides a broad understanding of the origins as well as the meaning of physical and cultural diversity in the world – past, present and future. With nearly 200 undergraduate majors, the department offers numerous research opportunities for students including field schools, internships, lab projects and independent studies at home and abroad. Students may earn B.A. and B.S. degrees with concentrations in sociocultural anthropology, archaeology, biological anthropology, and social practice and sustainability.
About the College of Arts and Sciences
The College of Arts and Sciences is home to 16 academic departments, two stand-alone academic programs, two centers and one residential college. These units span the humanities and the social, mathematical and natural sciences. The College of Arts and Sciences aims to develop a distinctive identity built upon our university's strengths, traditions and unique location. Our values lie not only in service to the university and local community, but through inspiring, training, educating and sustaining the development of our students as global citizens. There are approximately 5,850 student majors in the college. As the college is also largely responsible for implementing Appalachian's general education curriculum, it is heavily involved in the education of all students at the university, including those pursuing majors in other colleges. Learn more at http://cas.appstate.edu
About Appalachian State University
Appalachian State University, in North Carolina's Blue Ridge Mountains, prepares students to lead purposeful lives as global citizens who understand and engage their responsibilities in creating a sustainable future for all. The transformational Appalachian experience promotes a spirit of inclusion that brings people together in inspiring ways to acquire and create knowledge, to grow holistically, to act with passion and determination, and embrace diversity and difference. As one of 17 campuses in the University of North Carolina system, Appalachian enrolls about 19,000 students, has a low student-to-faculty ratio and offers more than 150 undergraduate and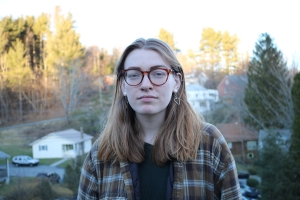 Tags: