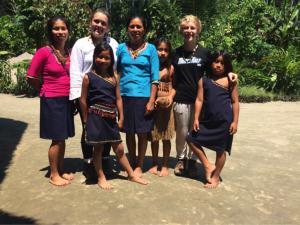 Abigail Rubio and Evangeline Giaconia, anthropology majors at Appalachian State University, have been awarded a grant from the Clinton Global Initiative University (CGIU) in order to design and implement a bilingual literacy program in an Ecuadorian community. Since 2008, the Clinton Global Initiative University program has given nearly $3 million to student initiatives across the country. These projects focus on alleviating a pressing world challenge based on five commitment areas: Education, Environment & Climate Change, Peace & Human Rights, Poverty Alleviation, and Public Health. The Initiative's focus is to engage young leaders in developing innovative solutions to these critical areas, taking concrete steps to creating networks of local and international support for global challenges.
Evangeline and Abigail's initiative addresses the Education commitment area, focused on improving English and Kichwa literacy in a small indigenous community in Ecuador. They have spent the last two summers working with the indigenous community of Shiripuno, situated in Amazonian Ecuador. The Appalachian State Department of Anthropology maintains more than a decade-long relationship with Shiripuno, each year sending on average 10 students to a field school in the community. Both students attended the field school in 2016 and returned on their own in the summer of 2017, where they continued their ethnographic research and study of Kichwa, the local language. They will return for the third time this summer to develop an English-learning curriculum designed to address three areas: at-risk Kichwa literacy in youth, English literacy, and school infrastructure.
Evangeline credits much of their initiative to support from the Department of Anthropology as well as the College of Arts and Sciences. "The training we have received from our department, including classes, the ethnographic field school, and mentoring, have given us the critical skills needed to make this project possible," said Rubio and Giaconia. The College of Arts and Sciences' commitment to supporting student research as well as shaping students into engaged global citizens has allowed them to push themselves to develop this initiative to create impactful, sustainable change, as well as forge long-term international relationships.
About the Department of Anthropology
The Department of Anthropology offers a comparative and holistic approach to the study of the human experience. The anthropological perspective provides a broad understanding of the origins as well as the meaning of physical and cultural diversity in the world – past, present and future. The department offers numerous research opportunities for students including field schools, internships, lab projects and independent studies at home and abroad. Students may earn B.A. and B.S. degrees with concentrations in sociocultural anthropology, archaeology, biological anthropology, and social practice and sustainability.
About the College of Arts and Sciences
The College of Arts and Sciences is home to 16 academic departments, two stand-alone academic programs, two centers and one residential college. These units span the humanities and the social, mathematical and natural sciences. The College of Arts and Sciences aims to develop a distinctive identity built upon our university's strengths, traditions and unique location. Our values lie not only in service to the university and local community, but through inspiring, training, educating and sustaining the development of our students as global citizens. There are approximately 5,850 student majors in the college. As the college is also largely responsible for implementing Appalachian's general education curriculum, it is heavily involved in the education of all students at the university, including those pursuing majors in other colleges. Learn more at http://cas.appstate.edu
About Appalachian State University
Appalachian State University, in North Carolina's Blue Ridge Mountains, prepares students to lead purposeful lives as global citizens who understand and engage their responsibilities in creating a sustainable future for all. The transformational Appalachian experience promotes a spirit of inclusion that brings people together in inspiring ways to acquire and create knowledge, to grow holistically, to act with passion and determination, and embrace diversity and difference. As one of 17 campuses in the University of North Carolina system, Appalachian enrolls about 19,000 students, has a low student-to-faculty ratio and offers more than 150 undergraduate and graduate majors.
Tags: