August – September 2021
Sponsored by the Dean's Office of the College of Arts and Sciences
Organized by the Department of Anthropology
Special thanks to Matt Tyson, Department of Theater and Dance and the Staff of Belk Library Information Commons


Hostile Terrain 94 (HT94) is a participatory art exhibition sponsored and organized by the Undocumented Migration Project (UMP), a non-profit research-art-education-media collective, directed by anthropologist Jason De León and brought to Appalachian State University by the Department of Anthropology. The exhibition illuminates the humanitarian crisis occurring at the United States border, a crisis that has claimed over 3,200 lives since the 1990s and continues to do so every day.
The exhibition is composed of thousands of handwritten toe tags that represent migrants who have died trying to cross the Sonoran Desert of Arizona between the mid-1990s to 2019. These tags are geolocated on a wall map of the desert showing the exact locations where remains were found. This installation will simultaneously take place at a large number of institutions, both nationally and globally in 2021 throughout 2022.
The Undocumented Migration Project (UMP) is an internationally known research-education-art collective founded by Jason De León in 2009. The UMP has been featured in numerous academic publications, as well as popular media outlets including The New York Times, RadioLab and the BBC. De León is a professor of Anthropology and Chicana/o Studies at UCLA. He is the author of the award-winning book "The Land of Open Graves: Living and Dying on the Migrant Trail" (UC Press 2015), co-curator of the award-winning exhibition "State of Exception" and a 2017 MacArthur Foundation Fellow. The pop-up installation "Hostile Terrain" is based on the multi-media exhibition of the same name co-produced by Michael Wells and Lucy Cahill.
For campus parking visit https://parking.appstate.edu/visitors-events and for an interactive campus map, visit https://maps.appstate.edu. Please wear a mask and follow all other university safety protocols when on campus.
Programming will include the following:
Tag Filling and Installation
Where: Belk Library and Information Commons Rotunda
When: Monday, August 16 - Tuesday, August 31, 2021 from 10 a.m. - 6 p.m. daily
What: Appalachian students, faculty and staff, as well as Boone community members, are invited to participate in the Hostile Terrain 94 pop-up art exhibition. You can stop by our table in the Belk Library rotunda between 10 a.m. to 6 p.m. to fill out one or more toe tags commemorating the lives lost to US border enforcement policies over the past 20 years.
Sanitized pens will be available.
Exhibition Opening and Conversation with Jason De León
What: Appalachian students, faculty and staff, as well as Boone community members, are invited to join us for the opening of the exhibition; light refreshments will be provided. Jason De León, the exhibition designer, will join us via Zoom for an informal conversation about HT94 and the border enforcement policies that continue to claim the lives of migrants along the U.S.- Mexico border. De León is a professor of Anthropology and Latin American Studies at UCLA.
HT94: Exhibition Opening
Where: Belk Library, Rotunda

When: Friday, September 3, 2021 anytime 3:00-4:00 pm
HT94: A Conversation with Jason De León via Zoom
Where: Belk Library, Room 114 OR Zoom (register here to attend via Zoom)

When: Friday, September 3, 2021 at 4:00-5:30 pm
Panel Discussion & Film Screening: Border South
Where: Greenbriar Theater
When: 9/17 @ 3:00-5:30 pm
What: Appalachian State students, faculty and staff, as well as Boone community members, are invited to join us for a panel discussion on migration policy, border violence and security, and reflections on the film Border South.
Panelists include:
Stefanía Arteaga (ACLU of North Carolina and co-founder of Comunidad Colectiva),
Jon Carter (Appalachian State University; Department of Anthropology) and
John Doering-White (University of South Carolina; College of Social Work).
The panel will be followed by a screening of Border South, a documentary film highlighting the resilience, ingenuity and humor of immigrants on routes from southern Mexico to the U.S.- Mexico border.
Stefanía Arteaga joined the ACLU of North Carolina in January 2019 as the Statewide Immigrants' Rights Organizer. In this role, she works with Latinx advocates and ACLU supporters to lead campaigns focused on ending 287(g) agreements and the use of ICE detainers in North Carolina. Arteaga immigrated from El Salvador when she was seven years old. Compelled to advocate for immigrant rights, her previous work has revolved around campaigns such as education access for undocumented students, deportation defense campaigns and successfully eliminating 287(g) in Mecklenburg County. She is the co-founder of Comunidad Colectiva, a grassroots immigrant rights organization that advocates for immigrant rights in Mecklenburg County.
John Doering-White is an assistant professor in the College of Social Work with a joint appointment in the Department of Anthropology at the College of Arts and Sciences at the University of South Carolina. Doering-White's research focuses on undocumented immigration and humanitarianism. His ethnographic work has focused on grassroots shelters that assist Central Americans migrating through Mexico. He is interested in how organizations can best assist undocumented communities considering shifting immigration enforcement trends between the United States, Mexico and Central America. As part of this work, Doering-White served as co-producer on Border South, a feature documentary film that premiered to national and international audiences in June 2019.
Cameron Gokee is an anthropological archaeologist in the Department of Anthropology at Appalachian State. Since 2012, he has collaborated with the UMP to study and draw attention to the contemporary archaeology of the US/Mexico borderlands, with an emphasis on mapping and counter-mapping undocumented migration and PTD infrastructure.
Jon Horne Carter is a sociocultural anthropologist in the Department of Anthropology at Appalachian State University. Since 1997 he has conducted ethnographic research in Honduras, with a focus on state violence, organized crime, and forced migration. He is the author of "Gothic Sovereignty: Street Gangs and Statecraft in Honduras" (University of Texas Press, 2022), and is an expert witness in US immigration court asylum cases involving refugees from Honduras.
About the Department of Anthropology
The Department of Anthropology offers a comparative and holistic approach to the study of the human experience. The anthropological perspective provides a broad understanding of the origins as well as the meaning of physical and cultural diversity in the world – past, present and future. With nearly 200 undergraduate majors, the department offers numerous research opportunities for students including field schools, internships, lab projects and independent studies at home and abroad. Students may earn B.A. and B.S. degrees with concentrations in sociocultural anthropology, archaeology, biological anthropology, and social practice and sustainability. Learn more at http://anthro.appstate.edu
About the College of Arts and Sciences
The College of Arts and Sciences is home to 16 academic departments, two stand-alone academic programs, two centers and one residential college. These units span the humanities and the social, mathematical and natural sciences. The College of Arts and Sciences aims to develop a distinctive identity built upon our university's strengths, traditions and unique location. Our values lie not only in service to the university and local community, but through inspiring, training, educating and sustaining the development of our students as global citizens. There are approximately 5,850 student majors in the college. As the college is also largely responsible for implementing Appalachian's general education curriculum, it is heavily involved in the education of all students at the university, including those pursuing majors in other colleges. Learn more at http://cas.appstate.edu
About Appalachian State University
As the premier, public undergraduate institution in the state of North Carolina, Appalachian State University prepares students to lead purposeful lives as global citizens who understand and engage their responsibilities in creating a sustainable future for all. The Appalachian Experience promotes a spirit of inclusion that brings people together in inspiring ways to acquire and create knowledge, to grow holistically, to act with passion and determination, and to embrace diversity and difference. Located in the Blue Ridge Mountains, Appalachian is one of 17 campuses in the University of North Carolina System. Appalachian enrolls more than 19,000 students, has a low student-to-faculty ratio and offers more than 150 undergraduate and graduate majors.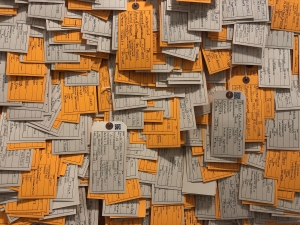 Tags: