Anthropology major, Callie Gunzenhauser, recently reported back on her experience studying abroad at American University in Bulgaria. Working with the skills that she is learning in anthropology, she is one of many students who are fortunate enough to study abroad as a way of augmenting their college learning and experience. For more information on studying abroad or to learn more about the Department's two study abroad summer field schools in Ecuador and Mexico, please visit the main office at Anne Belk Hall, Room 348 or speak with your advisor.
Why Bulgaria? I may never be able to fully answer this question that has been repeated to me over and over again these past three months, but I can explain what I've learned from my experience. The name of the city I have been living in has changed as often as those who have controlled the territory in which the people live: Skaptopara under the Romans, Gorna Dzhumaya under the Ottomans, and now Blagoevgrad since the Soviets. Somewhere between the fall of the Iron Curtain and the rise of capitalist supermarket aisles, Bulgarians have gotten good at knowing how to simply be. In fact, this might be what being Bulgarian has been about for centuries, as their territory on the edge of Europe has constantly been contested by various groups who have come in and out, colonizing the people who live there. There is a timeless aura about the place that simultaneously collides with modernity. Grandfathers make homemade rakia in empty plastic water bottles, mothers push around their sleeping babies in baby carriages, teenagers stroll down sunny afternoon sidewalks, chatting over cigarettes, and little kids pick themselves up off the ground after stumbling on some crack in the cement.
In a country full of empty factories and disappearing villages, I've felt unsure of what to think about Bulgaria, a place I had known little to nothing about before coming here. But surely my uncertainty pales in comparison to what the past few decades have felt to Bulgarians who, since the shift from communism to democracy, not only lost their jobs, but lost the government promised pensions that came with them. Both the elderly and the youth seem to lack a sense of security when looking toward the future. With one of the fastest declining populations in the world, village life is threatened by the quest for money. Young people leave their homeland in search of well-paying jobs elsewhere in Europe and America. Yet they always seem to return.
As a U.S. student studying at the American University in Bulgaria, just scratching the surface of understanding how my Bulgarian peers view the world, I feel lucky to have experienced the past few months through the lens of anthropology. While this world that humans exist in often seems messy and complicated, it is still possible to make sense of this particular culture through my own unique experience.
So when I ask myself, "Why Bulgaria?" I begin to appreciate that being Bulgarian, in a sense, means being free. Here, "freedom" means something different than it does in the United States. My short taste of their culture has left me thirsty to spend more time in places like this. A lack of rules and a social structure that seems to tolerate anything that comes its way creates a space to express yourself freely. While passersby may shift their eyes towards a U.S. girl going for an unusual run down the street, I can easily tell that although difference might not always be outwardly approved of, it is always accepted, because that's what the Bulgarian spirit is used to. There's beauty and power in an attitude like that.
--Callie Gunzenhauser, Anthropology major
About the Department of Anthropology
The Department of Anthropology offers a comparative and holistic approach to the study of the human experience. The anthropological perspective provides a broad understanding of the origins as well as the meaning of physical and cultural diversity in the world – past, present and future. With nearly 200 undergraduate majors, the department offers numerous research opportunities for students including field schools, internships, lab projects and independent studies at home and abroad. Students may earn B.A. and B.S. degrees with concentrations in sociocultural anthropology, archaeology, biological anthropology, and social practice and sustainability.
About the College of Arts and Sciences
The College of Arts and Sciences is home to 16 academic departments, two stand-alone academic programs, two centers and one residential college. These units span the humanities and the social, mathematical and natural sciences. The College of Arts and Sciences aims to develop a distinctive identity built upon our university's strengths, traditions and unique location. Our values lie not only in service to the university and local community, but through inspiring, training, educating and sustaining the development of our students as global citizens. There are approximately 5,850 student majors in the college. As the college is also largely responsible for implementing Appalachian's general education curriculum, it is heavily involved in the education of all students at the university, including those pursuing majors in other colleges. Learn more at http://cas.appstate.edu
About Appalachian State University
Appalachian State University, in North Carolina's Blue Ridge Mountains, prepares students to lead purposeful lives as global citizens who understand and engage their responsibilities in creating a sustainable future for all. The transformational Appalachian experience promotes a spirit of inclusion that brings people together in inspiring ways to acquire and create knowledge, to grow holistically, to act with passion and determination, and embrace diversity and difference. As one of 17 campuses in the University of North Carolina system, Appalachian enrolls about 19,000 students, has a low student-to-faculty ratio and offers more than 150 undergraduate and graduate majors.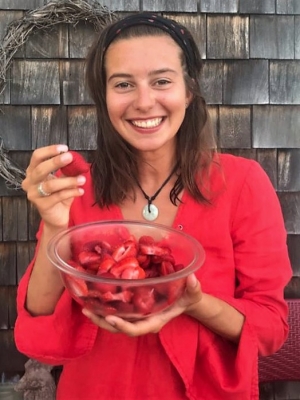 Tags: