After Aric Thoresen received his degree in anthropology from Appalachian State University in 2016, he travelled throughout Latin America and became TEFL certified. Inspired by his interests in both anthropology and teaching, he is now pursuing a Masters in Curriculum and Instruction (Early Childhood Education plus certification) at Arizona State University.
"When I graduated with my degree in Anthropology, I knew that I wanted to get out into the world and immerse myself into the rich life of travel and culture. My degree was heavily focused on Latin America, so I chose to go become TEFL certified in Costa Rica. Within a couple months of finishing at Appalachian State, I had my plane ticket and awaited my first solo adventure. My experiences with studying abroad had begun to prepare me early on, but now here I was on my own, flying into San Jose. All the Spanish that I had practiced and the means by which one adjusts to new cultural norms now would come into play as my map to surviving this long term excursion.
For my first month I lived with a local Costa Rican family in Manuel Antonio. Communicating in Spanish was essential as they didn't speak English very well. My time spent with them reaffirmed the way in which Anthropology provides a lens to how we observe and listen within a fresh environment. My desire to know more about the father's job in a local fishery, or details on the local school systems were curious inquiries to them compared to what general tourists wished to know about the local beach bars. After 2 months there, I got a job teaching English in Cusco, Peru with the company I got my TEFL through. The year I spent there played a huge role in shaping myself for the coming years. The good, the bad, and the ugly all come with Expat life, but the good certainly prevailed. I realized over time that Anthropology became a daily practice whether from the front of the class or on the street. My conversation classes I taught were some of the most insightful hours of my time there as I would have locals practice their English through debates and conversations on strong topics. Abroad, your colleagues from every corner of the world become of interest too as they tell you about life in Ireland, South Africa, Russia, or Japan. I have friends all over now that have provided me a taste of what things are like elsewhere.
The way I observed and learned from local indigenous constantly played a role in my travels too. You could learn a lot about their livelihood from even short conversations at a food stand or when stopping to say hello to their Alpacas. Pleasant nostalgia of a time when the whole city sat in the valley or painful injustices experienced during Fujimori's presidency all could be learned when one uses their ears to truly listen. The Kichwa I had learned at the Ecuador Field School even came into play when I'd practice the local Quechua with my local friends, neighbors, or even cab drivers. After Cusco I ended up also spending time abroad in Panajachel, Guatemala. This gem of a location shed a special light on how indigenous have fought tooth and nail to hold onto their roots and retain a platform for their ever important voices. Many years of war and corruption could not keep them from still wearing their traditional garb or staying in their home. Anyone of age had a story, and those stories generally brought horror and disbelief. Though inequalities are still present, it was uplifting to see empowerment through indegenous organizations and art from the area.
Anthropology was the greatest decision I could have made as an impressionable young man starting at Appalachian. The perspective it has given me through my travels has been essential to my learning and personal development. It has now helped me as a teacher, in how I ask questions or how I listen to answers. The webs that become unveiled have certainly been interesting and I only hope to learn more as the best social scientist I can be. Teaching in Phoenix, Arizona has me on a new adventure where anthropology can still play into each and every day." -- Aric Thoresen '16
About the Department of Anthropology
The Department of Anthropology offers a comparative and holistic approach to the study of the human experience. The anthropological perspective provides a broad understanding of the origins as well as the meaning of physical and cultural diversity in the world – past, present and future. With nearly 200 undergraduate majors, the department offers numerous research opportunities for students including field schools, internships, lab projects and independent studies at home and abroad. Students may earn B.A. and B.S. degrees with concentrations in sociocultural anthropology, archaeology, biological anthropology, and social practice and sustainability. Learn more at http://anthro.appstate.edu
About the College of Arts and Sciences
The College of Arts and Sciences is home to 16 academic departments, two stand-alone academic programs, two centers and one residential college. These units span the humanities and the social, mathematical and natural sciences. The College of Arts and Sciences aims to develop a distinctive identity built upon our university's strengths, traditions and unique location. Our values lie not only in service to the university and local community, but through inspiring, training, educating and sustaining the development of our students as global citizens. There are approximately 5,850 student majors in the college. As the college is also largely responsible for implementing Appalachian's general education curriculum, it is heavily involved in the education of all students at the university, including those pursuing majors in other colleges. Learn more at http://cas.appstate.edu
About Appalachian State University
As the premier, public undergraduate institution in the state of North Carolina, Appalachian State University prepares students to lead purposeful lives as global citizens who understand and engage their responsibilities in creating a sustainable future for all. The Appalachian Experience promotes a spirit of inclusion that brings people together in inspiring ways to acquire and create knowledge, to grow holistically, to act with passion and determination, and to embrace diversity and difference. Located in the Blue Ridge Mountains, Appalachian is one of 17 campuses in the University of North Carolina System. Appalachian enrolls more than 19,000 students, has a low student-to-faculty ratio and offers more than 150 undergraduate and graduate majors.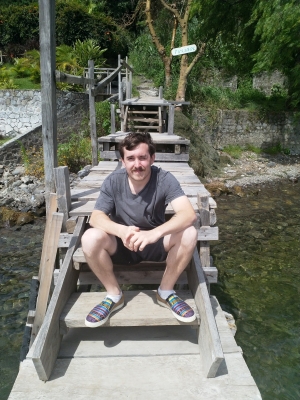 Tags: