Connor Elliott, anthropology major (concentration in biological anthropology), had the opportunity to conduct research in Ethiopia over the 2019-2020 winter break through an National Science Foundation-sponsored Research Experience for Undergraduates program (REU) with the University of Texas at Austin.
This National Science Foundation sponsored Research Experience for Undergraduates was designed to engage students in the study of early modern humans during the time period when our species evolved sophisticated foraging behaviors. The REU included a month of field work in northeastern Ethiopia and a month of museum/laboratory research in archaeology, paleontology, geochronology, geochemistry, and geology.
"By participating in the Middle Stone Age REU for Undergraduates run by the University of Texas at Austin, I received a real-working experience conducting archaeological research in one of the most important areas for paleoanthropology in the world. With this experience I can begin a real career in the fields of anthropology, archaeology, and paleoanthropology. In addition to field research in Ethiopia, I also have the opportunity now to conduct my own follow-up research in one of many of the leading archaeology labs in the country. This gives me the opportunity to gain experience at both ends of the archaeological process. I will present this research next fall at a national conference, sharing my experience and research with many people currently working in the field and hopefully meeting potential mentors for postgraduate study.
Being a part of the Department of Anthropology of Appalachian State University has been the most rewarding experience of my life. I began as an archaeology major but changed to biological anthropology as my interests in human diet and evolution became my main focus. With the support of Drs. Kissel, Lappan, and Schug, I have grown not only as an academic but as a person, and it has been an honor to participate in their amazing courses. When I first came to the department I was unsure of how I would start my academic career, but now, not only am I more confident about my choice, I feel as if I have a clear and achievable path forward as a professional bioarchaeologist. I am currently in the process of choosing graduate programs to pursue once I graduate. I hope to research the origins of agriculture and its full impact on the human diet and food ways. I am particularly interested in it's earliest forms and hope to be a part of a team researching paleolithic human diets, how transitions to agricultural diets occured, prehistoric social structures and osteoarchaeology."
About the Department of Anthropology
The Department of Anthropology offers a comparative and holistic approach to the study of the human experience. The anthropological perspective provides a broad understanding of the origins as well as the meaning of physical and cultural diversity in the world – past, present and future. With nearly 200 undergraduate majors, the department offers numerous research opportunities for students including field schools, internships, lab projects and independent studies at home and abroad. Students may earn B.A. and B.S. degrees with concentrations in sociocultural anthropology, archaeology, biological anthropology, and social practice and sustainability. Learn more at http://anthro.appstate.edu
About the College of Arts and Sciences
The College of Arts and Sciences is home to 16 academic departments, two stand-alone academic programs, two centers and one residential college. These units span the humanities and the social, mathematical and natural sciences. The College of Arts and Sciences aims to develop a distinctive identity built upon our university's strengths, traditions and unique location. Our values lie not only in service to the university and local community, but through inspiring, training, educating and sustaining the development of our students as global citizens. There are approximately 5,850 student majors in the college. As the college is also largely responsible for implementing Appalachian's general education curriculum, it is heavily involved in the education of all students at the university, including those pursuing majors in other colleges. Learn more at http://cas.appstate.edu
About Appalachian State University
As the premier, public undergraduate institution in the state of North Carolina, Appalachian State University prepares students to lead purposeful lives as global citizens who understand and engage their responsibilities in creating a sustainable future for all. The Appalachian Experience promotes a spirit of inclusion that brings people together in inspiring ways to acquire and create knowledge, to grow holistically, to act with passion and determination, and to embrace diversity and difference. Located in the Blue Ridge Mountains, Appalachian is one of 17 campuses in the University of North Carolina System. Appalachian enrolls more than 19,000 students, has a low student-to-faculty ratio and offers more than 150 undergraduate and graduate majors.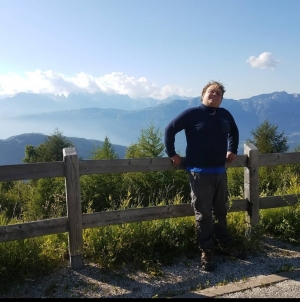 Tags: