After graduating from Appalachian with a B.A. in anthropology, she pursued graduate work in cultural anthropology at the University of Hawaii-Manoa. She returned to China to conduct her doctoral research on Chairman Mao icons and Chinese popular culture. This fieldwork resulted in a book entitled Biography of a Chairman Mao Badge: The Creation and Mass Consumption of a Personality Cult. She received her Ph.D. in 1998 and accepted a position in the anthropology department at Middle Tennessee State University. After a few years at MTSU, She moved on to Marquette University in Milwaukee, Wisconsin, where she was an Assistant Professor of anthropology for four years. Though she enjoyed her time at Marquette, she returned to the Appalachian mountains when the opportunity emerged, and is now an Associate Professor of anthropology at East Tennessee State University.
During this time, she shifted her research interests to work in the U.S., particularly the south. These projects included work at the Angola prison rodeo and on the ethnic revitalization of Melungeons, originally a multiethnic population in Appalachia. The latter, for which she was awarded a fellowship from the American Association of University Women, is the topic of her second book, Becoming Melungeon: Making an Ethnic Identity. She is now working on a folk history of the Southwest Virginia Mental Health Institute in Marion Virginia. The institute opened in the late 1800s as a "lunatic asylum" and continues to operate today as one of Appalachia's oldest and largest mental health hospitals.
She is now settled happily on 25 acres in Tennessee, living with her husband, Keith Pilkey, sons, Cameron and Quinn, and animals, Hank, Ink and Custard.
Posted March 1, 2010 - 12:44pm
More information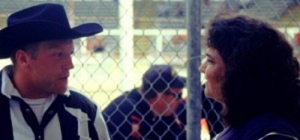 Tags: