Tom Whyte's research includes southern Appalachian prehistoric archaeology, zooarchaeology, and experimental archaeology. His recent research includes studies of animal remains from archaeological sites throughout the Southeast. He is especially focusing on late prehistoric sites in the Southern Appalachians, including the Garden Creek site complex in Haywood County, NC, Biltmore Mound in Buncombe County, NC, and the Williams Spring site in Madison County, AL. This research reveals a range of human responses to temporal fluctuations and geographic variations in availability of meat and the impacts of human competition for food resources.
A "Jack of all trades," he also is publishing on studies of prehistoric ceramic and lithic artifacts from the southern Appalachians. Recently he published in American Antiquity an article titled "Gifts of the Ancestors: Secondary Lithic Recycling in Appalachian Summit Prehistory (PDF, 406 KB)." Forthcoming in Southeastern Archaeology is an article titled "Household Ceramic Diversity in the Late Prehistory of the Appalachian Summit."
His Fall-Semester Experimental Archaeology classes have been conducting a series of experiments in archaeological site formation and taphonomy. The most recent focus of these studies examines the movement, reduction, and erasure of animal remains (human food refuse) on recently abandoned archaeological sites. Information gained from these studies will be used to evaluate the validity of reconstructions of past human diets based upon preserved and recovered animal remains.
Tom's research of animal remains from prehistory benefits zoological studies of species distributions and abundances in prehistory. He has published in the zoological literature articles on prehistoric records of the American Porcupine in the southern Appalachians and prehistoric records of the Roanoke Bass (Ambloplites cavifrons) and Largemouth Bass (Micropterus salmoides) on the Atlantic Slope of eastern North America. Currently he is re-examining alleged evidence of American Bison (Bison bison) in the late prehistory of the North Carolina mountains (Image 1), and prehistoric distributions of extinct Harelip Sucker (Moxostoma lacerum) along the middle and upper Tennessee River and its tributaries (Image 2).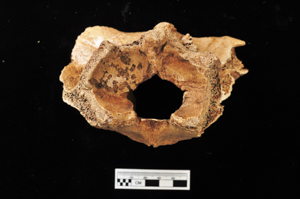 This 1st cervical vertebra recovered from Garden Creek Mound No. 1, Haywood County, NC was fist identified in 1967 as that of an American Bison (Bison bison). Dr. Whyte's recent reexamination of this and other specimens from the site confirm that they are bones of Elk (Cervus canadensis), thus challenging allegations of Bison in the southern Appalachians in late prehistoric times.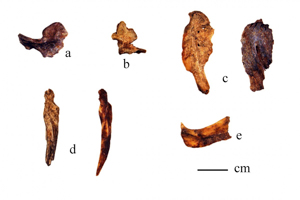 Bones of the extinct Harelip Sucker from the Williams Spring site in northern Alabama dating to approximately A.D. 700.


About the Department of Anthropology
The Department of Anthropology offers a comparative and holistic approach to the study of the human experience. The anthropological perspective provides a broad understanding of the origins as well as the meaning of physical and cultural diversity in the world – past, present and future. The department offers numerous research opportunities for students including field schools, internships, lab projects and independent studies at home and abroad. Students may earn B.A. and B.S. degrees with concentrations in sociocultural anthropology, archaeology, biological anthropology, and social practice and sustainability.
About the College of Arts and Sciences
The College of Arts and Sciences is home to 16 academic departments spanning the humanities, social sciences, and the mathematical and natural sciences. The college is dedicated to providing instruction and research essential to the university's mission and seeks to cultivate the habits of inquiry, learning and service among all its constituents. There are approximately 5,700 student majors. As the college is also largely responsible for implementing Appalachian's general education curriculum, it is heavily involved in the education of all students at the university, including those pursuing majors in other colleges.
About Appalachian State University
Appalachian State University, in North Carolina's Blue Ridge Mountains, prepares students to lead purposeful lives as global citizens who understand and engage their responsibilities in creating a sustainable future for all. The transformational Appalachian experience promotes a spirit of inclusion that brings people together in inspiring ways to acquire and create knowledge, to grow holistically, to act with passion and determination, and embrace diversity and difference. As one of 17 campuses in the University of North Carolina system, Appalachian enrolls about 18,000 students, has a low student-to-faculty ratio and offers more than 150 undergraduate and graduate majors.
Posted September 22, 2010 - 9:37am

More Information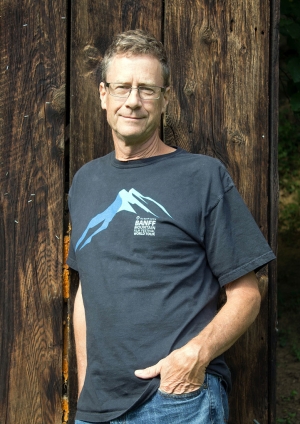 Tags: