James Rhoads (2003) has been working in Haiti since he graduated from Appalachian. For two years following graduation he worked with a small non-profit called the Haiti Fund, Inc. that gave him the opportunity to live in the rural mountains above Leogane, near Port au Prince, working with a reforestation and agriculture development project. His training in Anthropology gave him a particular lens through which to grapple with immersion in the language, work, family, religion, community and environment that shape rural Haitian culture. In 2005, he began a Masters in Natural Resources at Cornell, which further used ethnographic tools to look at how situated culture shapes development interventions, using a particular case on the island of La Gonave in Haiti. Beginning in 2009, Jamie connected with another non-profit called Meds & Food for Kids (MFK), based in Cap Haitian, Haiti's "second city." MFK makes a type of fortified peanut butter called Ready-to-Use-Therapeutic-Food (RUTF) used for treating Severe Acute Malnutrition, locally called Medika Mamba, but also known as Plumpy'nut. MFK was in the process of scaling up and becoming a validated supplier of RUTF to Unicef and other large NGOs in Haiti. MFK's goals are to treat and prevent childhood malnutrition, but also to improve livelihoods through employment at their factory and through buying locally-sourced peanuts, which has been Jamie's responsibility. Since 2009, when he started, MFK has bought over 150 metric tons of local peanuts representing over $200,000 of business with small-scale farmers, but also in collaboration with University of Georgia scientists, has trained hundreds of local producers in improved farming techniques and developed a model of small-scale peanut production that could increase yields 2-3x while reducing expenses, which will increase farmer incomes from a few hundred dollars per year to over $1000 for the average farmer. MFK has also recently completed a $3.5 million new factory that can process up to 500MT of peanuts annually and produce enough Ready-to-Use-Food to save the lives of over 50,000 children a year.
Jamie says that his training in anthropology has been at the forefront of his activities at MFK from the research methods training involved in program livelihoods assessments to critically understanding the international development agencies and the context of their involvement in Haiti. "It's never enough to understand the hard science of an activity if you can't also understand how the people involved will perceive it and integrate it into their system or not. Too often people think what they see is chaos, when in fact it's quite orderly, reasoned and systematic, just from a different perspective and objective."
Photo: Rhoads and colleague talking to Bill Clinton and his Secretary of Agriculture Dan Glickman on his latest visit to develop agricultural investments Haiti.
Posted April 2, 2013 - 9:50am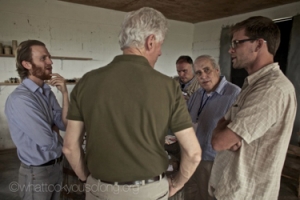 Tags: