Joe Candillo (1998) is founder and owner of Authentic Native American Arts, LLC through which he creates and sells traditional works of hand-made Native American art that qualifies as authentic under the Indian Arts and Crafts Law (Joe is a member of the Pascua Yaqui Tribe).
Joe graduated from our program in 1998. His B.S. degree was focused on Native American studies and outdoor museums. Under Dr. Tom Whyte's guidance, Joe researched, designed, and reconstructed a Late Archaic period (ca 5000 ybp) house and associated facilities using natural materials at ASU's Bob Gilly Research Station.
Thereafter, he received his M.A. degree in American Indian Studies at the University of Arizona and a Ph.D. in American Studies/Indigenous Studies at the State University of New York at Buffalo. His dissertation is titled "Indigenous Southeastern Woodland Archery, a Living Aboriginal Material Culture Tradition."
Joe has taught various courses about Native Americans at Marshall University, West Virginia University, and SUNY-Buffalo. He founded Native America Presents, LLC—a cooperative of tribally enrolled Native American educators who serve as educational cultural resources to the general public in areas lacking Native American representation. Through this organization Joe has provided presentations for school groups, scout groups, college courses, camps, and museums throughout the eastern US, and created museum exhibits for Meadowcroft Rockshelter and Historic Village, Prickett's Fort State Park and Museum, Mount Airy Regional Museum, Appalachian Heritage Museum, and Grave Creek Mound Archaeological Complex.
His amazing creations include varieties of weaponry, art, and sacred paraphernalia. Joe's craftsmanship is astonishing and his products are breathtaking. Please visit joecandillo.com to learn more.
Posted January 29, 2015 - 4:02pm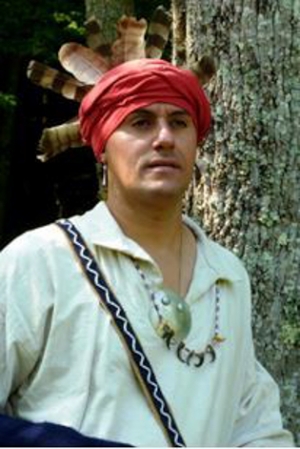 Tags: