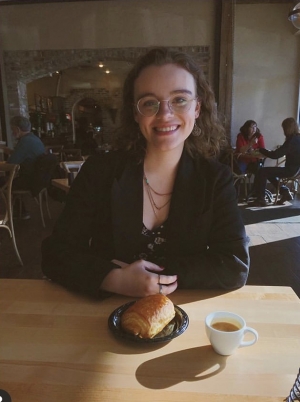 Anthropology major, Rachel Anderson, has been selected to participate in this summer's American Indian Language Development Institute at the University of Arizona. According to their website, The American Indian Language Development Institute's (AILDI) mission is to provide critical training to strengthen efforts to revitalize and promote the use of Indigenous languages across generations. This is accomplished by engaging educators, schools, Indigenous communities and policy makers nationally and internationally through outreach, transformative teaching, purposeful research and collaborative partnerships. As a result of our work, we envision that the larger society will know that language revitalization is critical to sustain and reinforce Indigenous linguistic, cultural, and spiritual health and identity.
"I will be attending the AILDI summer session at the University of Arizona. AILDI is the American Indian Language Development Institute, an organization that is dedicated to the preservation and teachings of Native American languages. Each summer session is assigned a theme, and this year the theme is 'Telling Our Language Journey Stories: Documenting the Language Work We Do.' The focus of the session is centered around language revitalization, an area of work that I hope to do with my multidisciplinary Anthropology and Spanish degrees. In the session, I will take two courses where I will learn how to study overlooked, yet vastly important, cultural practices such as dance, song, and chants that aid in the relearning and reclaiming of indigenous languages, as well as how to document languages and what exactly defines language documentation. I will take what I learn about language revitalization from this summer session with me for the rest of my career, which I plan to dedicate to studying the political effects on indigenous languages in the United States, Argentina, Brazil, and Ireland, all countries of interest to me. As well as studying the practices indigenous communities adopt to preserve their languages, while also supporting them in the preservation and garnering global awareness of their languages, which are often ignored and/or unnaturally destroyed by colonial and post-colonial attitudes and laws." -- Rachel Anderson
About the Department of Anthropology
The Department of Anthropology offers a comparative and holistic approach to the study of the human experience. The anthropological perspective provides a broad understanding of the origins as well as the meaning of physical and cultural diversity in the world – past, present and future. With nearly 200 undergraduate majors, the department offers numerous research opportunities for students including field schools, internships, lab projects and independent studies at home and abroad. Students may earn B.A. and B.S. degrees with concentrations in sociocultural anthropology, archaeology, biological anthropology, and social practice and sustainability. Learn more at http://anthro.appstate.edu
About the College of Arts and Sciences
The College of Arts and Sciences is home to 16 academic departments, two stand-alone academic programs, two centers and one residential college. These units span the humanities and the social, mathematical and natural sciences. The College of Arts and Sciences aims to develop a distinctive identity built upon our university's strengths, traditions and unique location. Our values lie not only in service to the university and local community, but through inspiring, training, educating and sustaining the development of our students as global citizens. There are approximately 5,850 student majors in the college. As the college is also largely responsible for implementing Appalachian's general education curriculum, it is heavily involved in the education of all students at the university, including those pursuing majors in other colleges. Learn more at http://cas.appstate.edu
About Appalachian State University
As the premier, public undergraduate institution in the state of North Carolina, Appalachian State University prepares students to lead purposeful lives as global citizens who understand and engage their responsibilities in creating a sustainable future for all. The Appalachian Experience promotes a spirit of inclusion that brings people together in inspiring ways to acquire and create knowledge, to grow holistically, to act with passion and determination, and to embrace diversity and difference. Located in the Blue Ridge Mountains, Appalachian is one of 17 campuses in the University of North Carolina System. Appalachian enrolls more than 19,000 students, has a low student-to-faculty ratio and offers more than 150 undergraduate and graduate majors.
Tags: