Sarah Perry graduated in 2014 with a degree in anthropology and a minor in Spanish. She worked in the non-profit sector in Asheville for a year after graduation. In 2015, she moved to Colombia to work with Heart for Change, Volunteers Colombia, and The Ministry of Education. These organizations joined together in an effort to make Colombia bilingual. This was an exciting time in Colombian history, as the government is beginning to invest more money in the public education, leveling the playing field for all Colombian children. Sarah had been working in a public school in the city of Medellin teaching English to 9th graders and engaging in cultural projects in the community.
She then took on the role of executive producer and researcher for a documentary about historic memory in the frame of the ongoing peace agreement between the FARC-EP guerrillas and the Colombian government. She assisted with grant writing and helping with the development of ideas for the documentary, which was not journalistic in nature but rather a compilation of memories, thoughts and experiences from both victims and perpetrators of the conflict. The purpose of the project was not to tell one story, but many intertwined stories in order to investigate how memory affects the way we document history. The film sought to raise questions such as: What exactly is gained or lost by remembering? How can a society confront the difficult legacies of their recent past? Can one truly 'forgive and forget'? Whose story is it to tell? Is there one "Truth" or many truths?
During her final year, she worked on a social project, Casa Cocotte, on the Northern Coast of Colombia, focused on providing training and education to the under-served community of Palomino so that residents could find work in the growing tourism industry. Following these four years of living abroad, Sarah Perry returned to North Carolina in 2019 and has accepted the position of Extension EFNEP Program Assistant (Adult & Youth) in Sanford, NC.
This position is part of the North Carolina Cooperative Extension (NCCE). NCCE gives residents easy access to the resources and expertise of NC State University and NC A&T State University. Through educational programs, publications and events, Cooperative Extension delivers unbiased, research-based information to North Carolina citizens. For almost five decades, EFNEP has been helping limited resource youth and families with children learn to eat healthier meals and snacks, make better use of food dollars and reduce the risk of food-borne illnesses. In collaboration with many organizations through the "Eat Smart, Move More" initiative, NC EFNEP aims to help reduce the rising tide of obesity by teaching youth and families practical skills resulting in changed behaviors to eat smart, move more and achieve a healthy weight.
Some of the responsibilities of the position include enrolling limited resource individuals and their children who qualify for federal food assistance programs, instructing eligible families in nutrition education, and facilitating the collection of required data and submitting reports. After assessing the needs of the community, which is 30-40% Spanish-speaking, Sarah will partner with other organizations in the area in order to develop a network of support.
Much of the work I am doing now draws upon my studies at Appalachian State. Specifically, the course "Engaging Anthropology" which helped me develop a framework in order to take anthropology beyond university. While anthropology in the United States is largely based in academia, in Colombia it's the opposite; most job opportunities are found in governmental positions or with NGOs. This can problematic since much of this type of work is situated in praxis rather than theory, and this can compromise the way we think about traditional anthropology. However, "Engaging Anthropology" prepared me to think about the opportunities that exist at this intersection, and how this might strengthen the objective of the discipline as anthropology grows and evolves. -- Sarah Perry
Posted February 8, 2016 - 3:18pm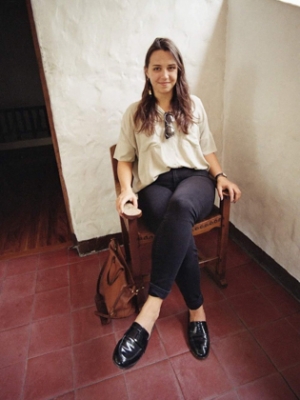 Tags: