Dr. Jon Carter to give guest lecture at University of Tennesee, Chattanooga and by zoom (registration link below)
IT CLIMBS UP INSIDE OF YOU, FROM THE SOLES OF THE FEET: HISTORY, WRITING, AND CRIMINAL WORLDS IN HONDURAS
Thursday, March 3, 5:30 p.m.
This event will also be livestreamed via Zoom. Registration: https://tinyurl.Com/bdhz7a3f
Since the late 1990s, street gangs have redefined the small nation-states of northern Central America. This talk draws on more than twenty years of ethnographic fieldwork in Honduras to ask what the study of gang worlds has taught us since the first academic monograph on youth gangs in the Americas was published in 1927. In particular I ask how ethnographic methods uniquely challenge the writer to think-with gangs and the din of late-capitalist globalization, rather than to
think-about them.
Jon Horne Carter is a sociocultural anthropologist whose research looks at gang communities in Honduras, and their reinvention of political subjectivity through the deconstruction of everyday notions of law, beauty, and violence. He is the author of Gothic Sovereignty: Street Gangs and Statecraft in Honduras (University of Texas Press, 2022).
This event is sponsored by the History Department and the Department of Social, Cultural, and Justice Studies at University of Tennesee, Chattanooga. Please send questions to Edward Brudney (edward-brudney@utc.edu) or Emma McDonell (emma-mcdonell@utc.edu).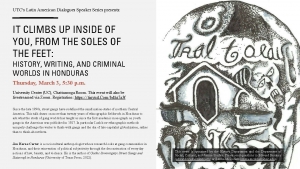 Tags: