Dr. Dana Powell's Anthropology of Environmental Justice course spent two days on an engaged learning field trip to Halifax County, North Carolina, participating in the annual Summit of the North Carolina Environmental Justice Network and in a site visit with Mr. Gary Grant of the Concerned Citizens of Tillery (one of the original founders of the NCEJN). Class members delivered poster presentations, volunteered as work exchange students at the Summit, and learned from research presentations by academic and grassroots researchers working on issues ranging from combating coal ash and industrial hog production waste, to building local food economies and strengthening African-America cultural heritage sites such as Princeville, NC. On our second day, we met with Mr. Grant to explore the history of the Tillery Resettlement Farm, a community where former black families working plantations as sharecroppers were able, under President Roosevelt's New Deal programs, to own their own land and begin to farm it for their own benefit. Members of the Concerned Citizens of Tillery welcomed our class with a hot meal, a lecture from Mr. Grant, and a lively tour through the nearby peanut, pecan, and cotton fields on our way to the Roanoke River, where Mr. Grant and his organization are developing a cultural-ecological tour of the River and Tillery Resettlement sites. Dr. Powell has been a member of the NCEJN and colleague of Mr. Grant's since 2004, having sent students to work with Mr. Grant and the Network off and on over the past 12 years. The year's class trip was in celebration of the scholar-activism of Professor Steve Wing, Epidemiologist from UNC-CH School of Public Health and co-founder of the NCEJN, who passed away in Chapel Hill earlier this week.
Pictured top right: Students assist Gary Grant of the Concerned Citizens of Tillery, with minor siding repair to the Tillery History House, which tells the 1930's land acquisition story of the Tillery Resettlement Community in Halifax County, NC.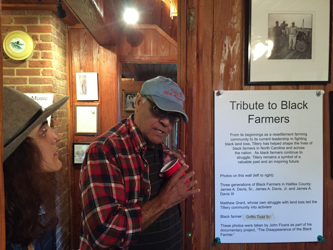 CCT Director Gary Grant shares with students the story of how black farmers resettled Halifax County and have continued to fight against the loss and land grabs of black farming land, ever since.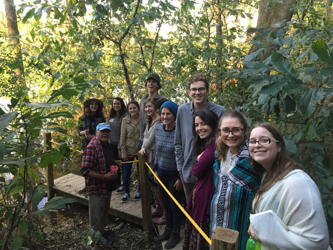 Gary Grant takes the class to the Roanoke River, explaining the cultural-ecological tour program CCT is developing along the river.
Posted November 21, 2016 - 11:31am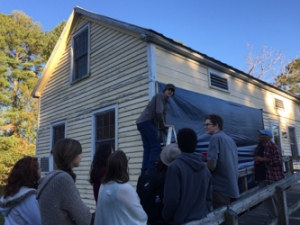 Tags: