Sally A. Callegari Memorial Scholarship for Gender Diversity in Animal Studies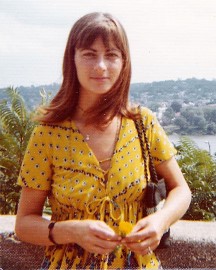 Make your impact by helping to support and transform the life of a Callegari Scholarship recipient (click here to make a gift)
This College of Arts & Sciences scholarship of $2,000 for the academic year was established in memory of Sally A. Callegari, a life-long supporter of animal rights, care, and health. The purpose of the Sally A. Callegari Memorial Scholarship for Gender Diversity in Animal Studies is to recognize outstanding scholarship in the humanistic or scientific study of animals that is couched in healthcare and/or advocacy and to provide incentive for students with demonstrated personal or research experiences of sexism, or who demonstrate an interest in the advancement of women in the sciences through their own work/activism, and who demonstrate a commitment to ending gender-based discrimination to enter into a profession that includes an interest in the well-being of animals (i.e. veterinary medicine, biology, animal welfare, primatology, etc.). The scholarship will be awarded on a yearly basis to one student.
In addition to the above requirements, applicants must have completed the freshman year at Appalachian and must be pursuing a major within the College of Arts and Sciences. They must demonstrate a satisfactory performance of at least a 3.0 grade point average. Preference will be given to applicants who pursue the Minor in Animal Studies and have an interest in pursuing a related profession that includes the above interests and committments. The student's grade point average must remain at 3.0 or better to be eligible for reapplication.
The Office of the Dean of the College of Arts and Sciences collects applications and conducts the selection process according to established guidelines. To apply, please visit the CAS Scholarships Page.
If you are interested in making a donation to support this scholarship, please visit this online portal. Your support is greatly appreciated!

Recipients
2023-2024: Beka Davis (Expected '25 B.S. in Biology with a Concentration in Ecology, Evolutionary, and Environmental Biology; minor in Animal Studies) - read more about Beka here
2022-2023: Alyssa Iampietro (Expected '22 B.S. in Biology with a Concentration in Ecology, Evolutionary, and Environmental Biology; minors in Animal Studies and Recreation Management) - read more about Alyssa here and view Alyssa's thank you video here
2021-2022: Mattie Cothren ('22 B.S. in Biology with a Concentration in Cell and Molecular Biology)
2020-2021: Katie Williard ('22 B.A. in Psychology, B.A. in Gender, Women's and Sexuality Studies with a minor in Animal Studies) - read more about Katie here
2019-2020: Makenzie Cash ('20 B.S. in Anthropology with a Concentration in Biological Anthropology; minor in Evolutionary Anthropology and Primatology) - read more about Makenzie here