In Memoriam: Dr. Harvard G. Ayers (1941-2023)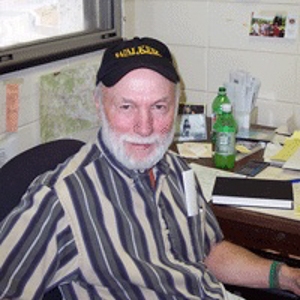 Dr. Harvard G. Ayers, Professor Emeritus and founding member of the Appalachian State University Department of Anthropology, died on March 9, 2023. He was 81 years old.
Harvard arrived at ASU in 1970, a critical time of development at the university. The small teacher's college that had existed for decades in the mountains of Northwestern NC was busy transitioning into a four-year liberal arts university as part of the reorganization of the state higher education system. The Department of Sociology, which had served as part of the education of future high school social studies teachers, was expanding and added Anthropology to the department title. Harvard and another archaeologist were hired as faculty, the first anthropologists in ASU's history. Harvard received his PhD from Catholic University of America in Washington, DC. He arrived at ASU with a strong commitment to build a separate department of anthropology, an achievement fulfilled in 1979 when he and his colleagues – Patricia Beaver, Brian Bennett, Susan Keefe, Burt Purington and Gregory Reck - established the new Department of Anthropology.
As an archaeologist, Harvard conducted archaeological research on Native Americans in northwestern NC. He co-directed the excavations at the Ward Site, an indigenous stockaded village along the Watauga River just west of Boone. His other archaeological work added to the documentation of prehistoric peoples of western NC.
Harvard was first and foremost a teacher and environmental activist. His courses were legendary with adventurous students who longed for content and experiences that would transform them. In the early 1980's, he led student van trips to Mexico to experience the wonderous archaeological sites of that country. His course, Southwest Field Experience, included a twelve-day trip over spring break to the U.S. southwest to interact with both Zuni and Navajo peoples. He developed contacts with Native American artists, political and religious leaders and many others to provide students with access to cultural worlds that outsiders rarely experienced. The content and enthusiasm of his classes converted many students to the pursuit of a degree in anthropology.
In the late 1970's Harvard's long-standing concern with destructive environmental problems led him and others to form Appalachian Voices, a non-profit organization that remains in existence today. In those early days, Harvard and the organization fought for clean energy and against the coal industry's mountaintop removal. He established relationships with many local activist Appalachian organizations fighting for the same things. His students and his classes were integrated into these activities, learning about the long history of exploitation in Appalachia by outside industries, the complicit state and national political systems, and the important role of local citizen political resistance.
Harvard became an integral part of ASU's sustainable development program during its infancy in the 1990's. He was one of a very few faculty members who helped initiate and sustain what is today a pillar of the university's identity.
Even after his retirement from ASU in 2004, Harvard continued his fight for clean energy and sustainability. From organizing the planting of trees to fighting for electric town vehicles and recharging stations, Harvard never retired from his commitment to the large and small issues of sustainability. His kindness and compassion, his love of teaching, his organizational drive, his authentic concern for the voiceless, and his endless energy are all part of his unmatched legacy that the department, the university and the Appalachian region should never forget.
In lieu of flowers, the family asks that those who wish to, direct donations to St. Jude Children's Research Hospital, 262 Denny Thomas Place, Memphis, TN 38105 or Shriners Children's Hospitals, 2900 N. Rocky Rd., Tampa FL 33607. Online Condolences may be shared at the website www.austinandbarnesfuneralhome.com.