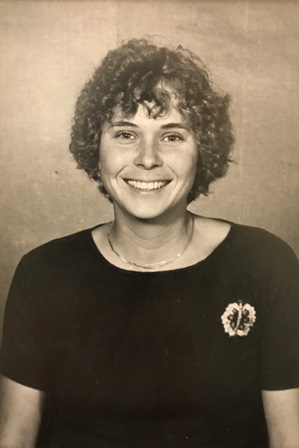 Every year the department faculty select an outstanding graduating senior or seniors to receive the Dr. L. Jill Loucks Memorial Award for Outstanding Senior in Anthropology. In addition to having their name engraved on a plaque, the winner will also receive a modest financial stipend (in the event that there are multiple winners, they will split the prize).
Dr. L. Jill Loucks (1953-1982) was a dedicated archaeologist and member of the faculty for three years before her untimely death. Her parents and friends created an endowment to help recognize superlative achievement amongst eligible graduating students by presenting them with the Dr. L. Jill Loucks Memorial Award for Outstanding Senior in Anthropology.
2018-2019 Recipient
Patrick James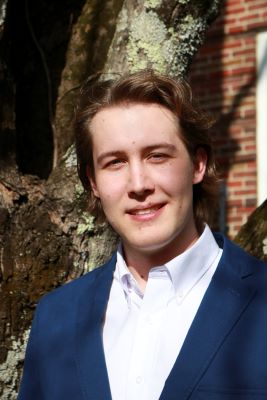 "I am deeply honored to be chosen as Outstanding Senior. My accomplishments at Appalachian State would have been impossible without ongoing conversation with peers, encouragement from family, and especially, the brilliant instruction and criticism I was fortunate to receive from our wonderful faculty in the anthropology department. My interests in anthropology lie at the nexus between writing, psychoanalysis, and processes of violence in the Anthropocene, and my education at Appalachian has lead me to a Master's program in Latin American Studies at the University of Florida, where I will pursue a research project, situated in a deep crisis of the Anthropocene, considering the psychological, affective, and material worlds of non-industrial fishermen on the coast of Venezuela. As I moved toward graduation, Dr. Carter and Dr. Mines helped me think about how my passion for poetry and writing might be integral in ethnographic practice. Their courses in which we discussed the politics of representation, anti-positivist methods, phenomenology, and violence have been foundational for my intellectual development. In these courses, my interests in writing took on a new meaning. Poetry and the art of representing became a political and intellectual imperative. They opened me to new ideas that provide deep meaning for my life, especially from texts that situate ethnographic practice within a history of philosophy. Together we questioned the strange paradox, that everyday life feels spectral because we are always already embedded within it. What happens when we break through the surface, and see ourselves from outside? Always under the surface of the ethnographic endeavor are questions about the human condition and the ambiguous status of reality. These are questions that take everything to answer, and I hope to commit my life to trying.
Receiving this award is incredibly meaningful to me as a young scholar, especially in our current political and ecological juncture. In the United States, where the economic forces of capital and materialism create cultural forces that shape how we can and cannot live our lives, to study anthropology is a political choice. Anthropologists take seriously the danger of alienation, climate collapse, repression, and fascism, and therefore, it is indispensable that we have good ones. I feel that I have been prepared to continue after graduation with a perspective that is critical of the alienating forces that are inchoate in the world, and I hope to contribute to critical discourses in ways that are creative and politically charged. As I go to graduate school and into a career, I will remain thankful to the wonderful scholars in the Appalachian State anthropology department, who have provided endless guidance and support. Specifically, I will be forever grateful to Dr. Carter for the mentorship and investment he has given me during these years. In classes and in conversation he inspired me to take action, to write, to question, and to be tenacious. I am certain that anthropology is a world changing and world building endeavor, and it has influenced me to want to build a world that is a refuge, rather than one that creates refugees. As my time at Appalachian winds to a close, I think of the dark ridgeline outside my apartment window. It glows amber as the sun descends." -- Patrick James


Application Guidelines
Graduating seniors (May and August, and December of previous year) are invited by the faculty in the spring to submit an application. The following criteria are used in selection of the awardee:
Grade Point Average (a minimum 3.5 GPA is required--Cumulative and Anthropology Major)
Professional Activities (i.e. attendance at professional meetings, presentation of professional paper, membership in professional organizations and ASUAS, anthropological internships and field school/study abroad participation)
Honors and Awards
Intent to Continue in Anthropology (i.e. application to graduate schools, involvement in anthropological work as career)
Past Recipients
1982-1983 Virginia D. Myers and Linda J. Reed
1983-1984 James A. Sparks
1984-1985 A. Richard Piland III
1985-1986 Bradley C. Allen and Eustace R. Conway
1986-1987 Holly J. Greene and Sarah L. Horton
1987-1988 J. Daniel Humphries
1988-1989 Christopher D. Conner and Frank H. Callis III
1989-1990 Karissa G. Mackey
1990-1991 Alan Davis McIntyre and Katherine Anne Robinson
1991-1992 Melissa Rae Schrift
1992-1993 Sarah W. Cohen and Kathleen D. Fowler
1993-1994 Karla J. Schilling
1994-1995 Jonas J. Monast
1995-1996 Hubert L. Cox and Satomi Imai
1996-1997 Jodie D. Manross and Russell S. Quick
1997-1998 Celia Denice Hefner and Robert Rikard
1998-1999 Elizabeth Ellen Arnold
1999-2000 Jennifer Leigh Bonnet and Lindsay Kathleen Wetmore
2000-2001 James Hal Dobbins III and Elizabeth K. Uselton
2001-2002 Michael J. Sheridan and Nancy E. McCamey
2002-2003 Kristina M. Stoeppler and Elizabeth L. Laney
2003-2004 Heather E. Moore
2004-2005 Caroline V. Ketron and Joanne M. Rasmussen
2005-2006 Angela E. Henderson
2006-2007 Elizabeth Brandt
2007-2008 Matthew J. Bouchard
2008-2009 Mary Elizabeth Compton
2009-2010 Brittany Glarrow
2010-2011 Karen A. Stevens
2011-2012 Caitline R. Patton
2012-2013 Alexandra Drebitko
2013-2014 Kelly Elaine Blevins
2014-2015 Savannah Carter and Stevie Ray Wunder
2015-2016 Jillian Ingle
2016-2017 Rebecca Long
2017-2018 Autumn Melby