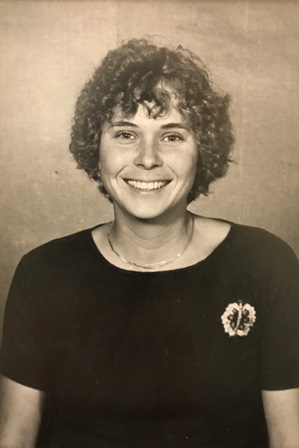 Every year the department faculty select an outstanding graduating senior or seniors to receive the Dr. L. Jill Loucks Memorial Award for Outstanding Senior in Anthropology. In addition to having their name engraved on a plaque, the winner will also receive a modest financial stipend (in the event that there are multiple winners, they will split the prize).
Dr. L. Jill Loucks (1953-1982) was a dedicated archaeologist and member of the faculty for three years before her untimely death. Her parents and friends created an endowment to help recognize superlative achievement amongst eligible graduating students by presenting them with the Dr. L. Jill Loucks Memorial Award for Outstanding Senior in Anthropology.
2019-2020 Recipients: Hannah Broome and Lia Kitteringham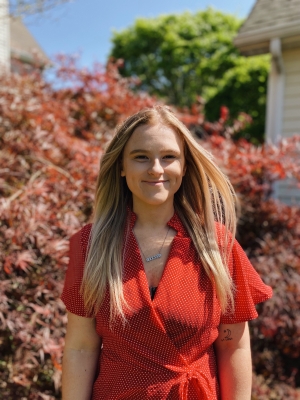 "I am humbled and honored to be the recipient of the Dr. L. Jill Loucks Memorial Award for Outstanding Senior. My time at Appalachian State University has been shaped and colored by my time in the Department of Anthropology and I would undoubtedly not be where or who I am today without the generous support and guidance of the professors of this outstanding department. While Anthropology is incredibly diverse and multifaceted in its areas of study, my pursuits find themselves located somewhere between migration studies and political anthropology, geographically focused on Latin America as well as Spain. I have been fortunate enough to be instructed by a wide range of professors in our department, each one providing a different sense through which to look at the discipline. I have grown to understand that while anthropology is a social science, it can also lead to activist efforts, resistance movements, and making space for voices often overshadowed or actively oppressed. For me, this is what our department and professors have instilled in me: a sense of urgency to do work that does more good than harm, and to do it with intention while critically considering our own subjectivity within the system we find ourselves.
As a young scholar, receiving an award of this magnitude, and the recognition that accompanies it, is an immeasurable vote of confidence to continue on this path of critical academic study. Anthropology is a severely misunderstood and misrepresented discipline despite it being one that shapes and prepares students to be active participants in a world that constantly teeters on the edge between absolute mayhem and destruction one one side and potential reparation on the other. In both the political and environmental climate we all find ourselves situated in, it is more imperative than ever to have informed and compassionate scholars who have committed themselves, their work, and their lives to the betterment of our world for all of its inhabitants, not just those who have historically been represented. In times of uncertainty like the one we currently exist in, anthropology offers an opportunity to learn from past errors, provides the chance for a more inclusive and balanced world, and lays the groundwork for future world-making that steps outside of our own ethnocentric ways.
Both Dr. Carter and Dr. Smith have been integral in my studies, and have shaped the person I am today and hope to develop into. By believing in me and taking the time to invest in a young scholar, both have allowed me to grow within the department and myself. Dr. Carter's mentorship over the last year is something I am eternally grateful for. The countless conversations and classroom lectures always left me inspired and believing I could, and should do more. My time at Appalachian State, and within our department only reaffirms that while there is a great big world out there, it is more connected than we know and it is up to us to nurture these connections, and resist alienation efforts at all costs." -- Hannah Broome
Lia Kitteringham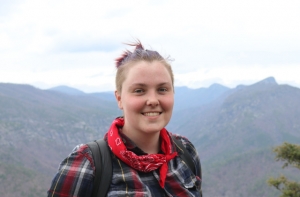 "Anthropology, to me, is about welcoming new perspectives, about opening one's eyes to the people around us, both near and far. I wouldn't say that I, or anyone else for that matter, was particularly close-minded before coming to Appalachian State University's Department of Anthropology, but this society and this country have a way of shielding kids from the many different and interesting worldviews that exist all around us. Eurocentrism abounds in our K-12 public schooling, whether intentional or not, and tends to erase any culture that is not white. I truly believe that the lessons I have learned through my anthropology classes have not only opened my eyes to this erasure but have made me into a better person capable of fighting against it.
Being chosen for this award was really unexpected because of all of the other amazing seniors in this department, and I think it proves to me that all of my time and work has been well spent. Anthropology, and archaeology in particular, is truly what I want to do for the rest of my life, and I feel that earning this award for all of the things I have learned and accomplished here will give me the knowledge and confidence to go out into the world and do that." -- Lia Kitteringham
Application Guidelines
Graduating seniors (May and August, and December of previous year) are invited by the faculty in the spring to submit an application. The following criteria are used in selection of the awardee:
Grade Point Average (a minimum 3.5 GPA is required--Cumulative and Anthropology Major)
Professional Activities (i.e. attendance at professional meetings, presentation of professional paper, membership in professional organizations and ASUAS, anthropological internships and field school/study abroad participation)
Honors and Awards
Intent to Continue in Anthropology (i.e. application to graduate schools, involvement in anthropological work as career)
Past Recipients
1982-1983 Virginia D. Myers and Linda J. Reed
1983-1984 James A. Sparks
1984-1985 A. Richard Piland III
1985-1986 Bradley C. Allen and Eustace R. Conway
1986-1987 Holly J. Greene and Sarah L. Horton
1987-1988 J. Daniel Humphries
1988-1989 Christopher D. Conner and Frank H. Callis III
1989-1990 Karissa G. Mackey
1990-1991 Alan Davis McIntyre and Katherine Anne Robinson
1991-1992 Melissa Rae Schrift
1992-1993 Sarah W. Cohen and Kathleen D. Fowler
1993-1994 Karla J. Schilling
1994-1995 Jonas J. Monast
1995-1996 Hubert L. Cox and Satomi Imai
1996-1997 Jodie D. Manross and Russell S. Quick
1997-1998 Celia Denice Hefner and Robert Rikard
1998-1999 Elizabeth Ellen Arnold
1999-2000 Jennifer Leigh Bonnet and Lindsay Kathleen Wetmore
2000-2001 James Hal Dobbins III and Elizabeth K. Uselton
2001-2002 Michael J. Sheridan and Nancy E. McCamey
2002-2003 Kristina M. Stoeppler and Elizabeth L. Laney
2003-2004 Heather E. Moore
2004-2005 Caroline V. Ketron and Joanne M. Rasmussen
2005-2006 Angela E. Henderson
2006-2007 Elizabeth Brandt
2007-2008 Matthew J. Bouchard
2008-2009 Mary Elizabeth Compton
2009-2010 Brittany Glarrow
2010-2011 Karen A. Stevens
2011-2012 Caitline R. Patton
2012-2013 Alexandra Drebitko
2013-2014 Kelly Elaine Blevins
2014-2015 Savannah Carter and Stevie Ray Wunder
2015-2016 Jillian Ingle
2016-2017 Rebecca Long
2017-2018 Autumn Melby
2018-2019 Patrick James