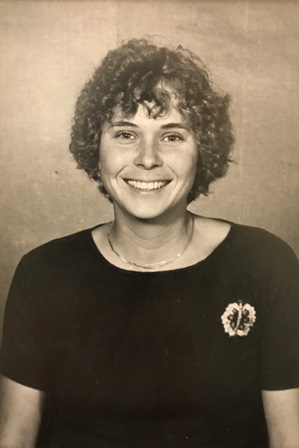 Every year the department faculty select an outstanding graduating senior or seniors to receive the Dr. L. Jill Loucks Memorial Award for Outstanding Senior in Anthropology. In addition to having their name engraved on a plaque, the winner will also receive a $500 award (in the event that there are multiple winners, they will split the prize).
Dr. L. Jill Loucks (1953-1982) was a dedicated archaeologist and member of the faculty for three years before her untimely death. Her parents and friends created an endowment to help recognize superlative achievement amongst eligible graduating students by presenting them with the Dr. L. Jill Loucks Memorial Award for Outstanding Senior.
2017-2018 Recipient
Application Guidelines
Graduating seniors (or those students who have graduated in August or December of the previous year) are invited by the faculty in the spring to submit an application. The following criteria are used in selection of the awardee:
Grade Point Average (a minimum 3.5 GPA is required--Cumulative and Anthropology Major)
Professional Activities (i.e. attendance at professional meetings, presentation of professional paper, membership in professional organizations and ASUAS, anthropological internships and field school/study abroad participation)
Honors and Awards
Intent to Continue in Anthropology (i.e. application to graduate schools, involvement in anthropological work as career)
Deadline is March 12, 2019, 5:00PM. Application by invitation only.
Past Recipients
1982-1983 Virginia D. Myers and Linda J. Reed
1983-1984 James A. Sparks
1984-1985 A. Richard Piland III
1985-1986 Bradley C. Allen and Eustace R. Conway
1986-1987 Holly J. Greene and Sarah L. Horton
1987-1988 J. Daniel Humphries
1988-1989 Christopher D. Conner and Frank H. Callis III
1989-1990 Karissa G. Mackey
1990-1991 Alan Davis McIntyre and Katherine Anne Robinson
1991-1992 Melissa Rae Schrift
1992-1993 Sarah W. Cohen and Kathleen D. Fowler
1993-1994 Karla J. Schilling
1994-1995 Jonas J. Monast
1995-1996 Hubert L. Cox and Satomi Imai
1996-1997 Jodie D. Manross and Russell S. Quick
1997-1998 Celia Denice Hefner and Robert Rikard
1998-1999 Elizabeth Ellen Arnold
1999-2000 Jennifer Leigh Bonnet and Lindsay Kathleen Wetmore
2000-2001 James Hal Dobbins III and Elizabeth K. Uselton
2001-2002 Michael J. Sheridan and Nancy E. McCamey
2002-2003 Kristina M. Stoeppler and Elizabeth L. Laney
2003-2004 Heather E. Moore
2004-2005 Caroline V. Ketron and Joanne M. Rasmussen
2005-2006 Angela E. Henderson
2006-2007 Elizabeth Brandt
2007-2008 Matthew J. Bouchard
2008-2009 Mary Elizabeth Compton
2009-2010 Brittany Glarrow
2010-2011 Karen A. Stevens
2011-2012 Caitline R. Patton
2012-2013 Alexandra Drebitko
2013-2014 Kelly Elaine Blevins
2014-2015 Savannah Carter and Stevie Ray Wunder
2015-2016 Jillian Ingle
2016-2017 Rebecca Long