Each year the Department of Anthropology may award one or more students the Dr. Susan E. Keefe Award for Practicing Anthropology, named in honor of one of the founding professors (and a former chair) of the department. This award, which includes $300 and naming on a plaque, recognizes students who contribute and/or have the potential to contribute in a significant way to solving problems using anthropological theories and methods. This can include volunteer work in communities and other extra-curricular activities as well as participation in research, internships, laboratories, or fieldwork courses that make a contribution to real world practice.
This award will be given to students majoring in a subfield of anthropology who have achieved significant merit in practicing anthropology and have plans for future application of anthropology in the real world. Examples are applied research project, community outreach, formal internship, extraordinary experience.
Awards will be based on academic excellence, depth and extent of praxis work, and the application statement.
2018-2019 Recipient
Olivia Elliott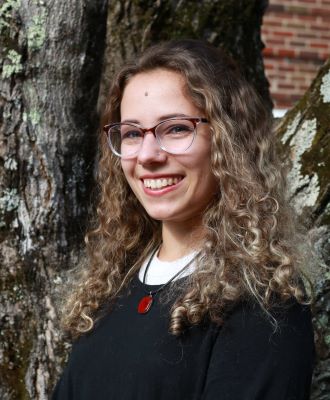 "I began my time in college unsure of how to navigate through the sea of knowledge, but within minutes of my first Anthropology class I knew that this department was calling to me. I decided to utilize these four years to educate myself with reading materials that would bring me to engage with my surroundings in an intellectual and critical fashion. I feel like my eyes have been opened to the minute inner workings of the world. I have matured as an active participant in my environment and I cannot imagine my world without the insights that this department has made available to me. Throughout my development, I have been encouraged to expand my vision and pursue my focused field work in Guatemala. I have been taught how to interact with obstacles and reflect on my observations with resources that deepen my understanding of myself and the world around me. Anthropology has provided me with the foundational materials I need to continue my walk through this changing world in a positive manner.
This award encourages me on my path toward social and environmental change. I am humbled to be acknowledged for my academic and field work. I would not have been able to envision my participatory field work without the resources and support of the professors and students here. I look forward to expanding my library of knowledge and continuing my work in Guatemala. Receiving this award inspires me to take bigger leaps in my career and supports my dream of applying anthropology in a realistic and positive way. I am honored to receive the Dr. Susan E. Keefe Award for Practicing Anthropology and I hope to carry on her legacy. Thank you." -- Olivia Elliott
Application Guidelines
Provide your CV or resume that includes your name, e-mail address, anthropology degree concentration, and academic year (e.g. junior, senior, etc.)
Typed application letter (approximately two pages single spaced) that describes in full your practice of anthropology (as described above). The letter should also address how your study of anthropology has contributed to this practice. Reflect on the real world difference you have made in your work. What makes this work anthropological?
If your work is extra-curricular, please submit documentation (e.g. news article with your name mentioned) or the name and telephone number of a reference
DOWNLOAD APPLICATION HERE (FEBRUARY 21, 2020 DEADLINE)
Past Recipients
2005-2006 Justin Scarborough
2006-2007 Henry Blackford
2007-2008 Jaime Lockard
2008-2012 [no award given]
2012-2013 Tiffany Pardue
2013-2014 Michael Story
2014-2015 Charles Wickboldt
2015-2016 Ricki Draper
2016-2017 Ricki Draper
2017-2018 Evangeline Giaconia and Abigail Rubio