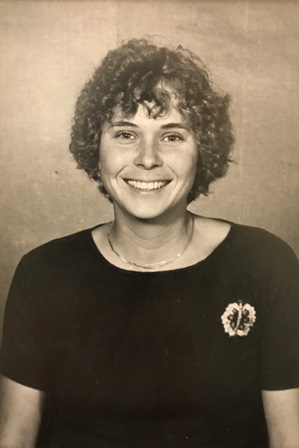 These scholarships are awarded to anthropology majors who demonstrate outstanding academic achievement. Dr. L. Jill Loucks (1953-1982) was a dedicated archaeologist and member of the faculty for three years before her untimely death. Her parents and friends created an endowment to help anthropology students with research funds via the Dr. L. Jill Loucks Memorial Scholarship in Anthropology Endowment and eligible graduating students (students in their senior year at the time of their application are not eligible). In addition to having their name engraved on a plaque, the winner will be awarded approximately $1,200 in scholarship money (in the event that there are multiple winners, they will split the prize).
2020-2021 Recipient: Rachel Anderson
"Since I was a child, my adoration for languages and literature has never waned. My father, like most parents, advised me to choose a path in something I love to mold a career around. But it's hard to do that when you seem to be interested in everything.
When I sat in my first anthropology class my freshman year, I knew I had found what I wanted to spend my life doing. It wasn't that I was interested in everything, it was that, when I boiled it down, I was interested in us. In humans. I chose anthropology because I wanted to study us in our pursuit of such things like these paths we mold our lives around, in our endless endeavour in articulating the world that we experience through language in its many forms, and how our languages become a liminal home we can tuck away into when we are seemingly far away from home. This department has not only enabled me to study this, but it has supported me in my research and my questions, and at times yanked me out of my perspective like a fish out of water, and asked me to look at an ocean that I couldn't see while in it: glittering and lovely, and sometimes dark and terrifying, as it is.

Receiving the Dr. L. Jill Loucks Memorial Scholarship in Anthropology is a blessing and an absolute honor, as it lends me indefinite opportunities to continue in my career in anthropology, and allows me the chance to ardently thank every single professor, friend, and librarian who has supported me in this intellectual pursuit, with their many book recommendations and their patient ears for listening to me ramble about stumbled-upon findings. I don't think I would be where I am now without them, and I am so grateful for being where I am now, happily studying anthropology and having the chance to be accepting this scholarship. This scholarship has bolstered my anthropologic aspirations and I am eager to continue my education here in this department."
Application Guidelines
Students are invited to submit an application for Loucks Memorial Scholarships in the early spring. They are designated for students who are majoring in Anthropology and who have demonstrated academic achievement. How the student's academic and professional work in anthropology have demonstrated their interests and accomplishments is considered based upon the following criteria:
Class assignments
Research papers or projects
Professional conference papers
Internships
Field school/study abroad participation
Honors and awards
Attendance at professional meetings
Membership in professional organizations
Volunteer work
Past Recipients
1988-1989 Kim Green McClure and Randy Wulff
1999-2000 Lindsay Kathleen Wetmore
2000-2001 Elizabeth K. Uselton
2001-2002 Elizabeth Laney
2002-2003 Shauna Ertolacci
2003-2004 Nick Jarman and Meredith Shockley
2004-2005 Angela Henderson
2005-2006 Andrew Johner
2006-2007 Teresa Campell
2007-2008 Matthew Bouchard and Andy Kruse
2008-2009 Kaitlyn Kluge, Christine Kirby, and Erin Foster
2009-2010 Brittany Glarrow
2010-2011 Karen Stevens and Robert Schultz
2011-2012 Caitlin Patton and Whitney Cannady
2012-2013 Hannah Brooks
2013-2014 Elaine Blevins and Lydia Dillingham
2014-2015 Kelsey Rothenberg
2015-2016 Rosemary Ott
2016-2017 Rebecca Long and Victoria Olender
2017-2018 Ricki Draper, Evangeline Giaconia, and Autumn Melby
2018-2019 Kennedy Kavanaugh, Amanda Lago, and Mason Rogers
2019-2020 Harrison Cribb and Ben Seabolt